Argentine Telecom Impsat Goes Toe To Toe With At&T
The corporate communications giant prepares to battle the biggies
By
In 1990, when the waiting period for a phone line in Buenos Aires averaged three years, Argentine entrepreneur Enrique Pescarmona thought he could do better. So he started IMPSAT Inc., a company that specialized in supplying local subsidiaries of foreign companies with the first-class communications services they had become accustomed to back home, including data transmission and, eventually, dedicated Internet connections. Clients included Citibank, Royal Dutch/Shell, and Mercedes-Benz. And wherever they went in Latin America, IMPSAT followed.
Today, IMPSAT, which last year tacked on "Fiber Networks" to its name, boasts the region's most extensive fiber-optic network--stretching across eight Latin American countries and linking up with the U.S.--along with a blue-chip roster of 2,100 customers. It also has powerful backers, including Morgan Stanley Dean Witter and British Telecommunications PLC, which together have invested $275 million in the company. Now, IMPSAT is making a nearly $1 billion bet that it can become the dominant player in corporate communications, with services that run the gamut from videoconferencing to Web hosting. That's a wager that could eventually cost the company its independence.
Latin America's corporate communications market is set to grow by a blistering 30% a year through 2004, to $12.4 billion, according to Pyramid Research of Cambridge, Mass. Of course, competition is heating up, too. But IMPSAT's top management is not daunted: "Our goal is to prove that a Latin American company made up of Latin American talent can offer the same sophisticated service one expects from a global player," says Chief Executive Ricardo Verdaguer. (Pescarmona is now chairman.)
That will be tough, now that IMPSAT's home turf is under attack from deep-pocketed foreign giants such as Spain's Telefonica and AT&T. In fact, when AT&T announced plans last year to invest $500 million to capture a bigger share of the region's lucrative business traffic, it specifically cited IMPSAT as a model.
Fortunately, under the guidance of Chief Financial Officer Guillermo Jofre, a former debt negotiator for the Argentine government, IMPSAT has built up a tidy war chest of its own. In February, just before investors beat a retreat from tech stocks, the Argentine company raised $240 million from an initial public offering of its stock on Nasdaq. A $300 million high-yield bond offering followed shortly thereafter.
The money will fund IMPSAT's transformation from a satellite-based to a land-based telecommunications company. As part of this metamorphosis, the company is building a fiber-optic network that will stretch 10,000-kilometers. The first and most important phase involves wiring Argentina, Brazil, and Chile, a project due to be completed before yearend. Telefonica, meanwhile, is only now breaking ground on its own pan-regional network.
VULNERABLE. Winning the first leg in the race to wire Latin America is no guarantee of longevity. With $850 million in debt and no profits expected until at least 2003, IMPSAT has a narrower margin for error than do larger, global players. "There's no way this company will be around in its current form three years from now," says Bruce Stanforth, Latin American corporate-debt analyst for BNP-Paribas in New York.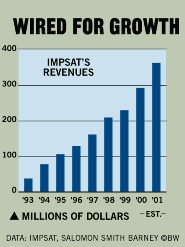 Apart from its heavy debt, IMPSAT is vulnerable on a number of other fronts. For one thing, it is heavily exposed to Argentina, Colombia, and Venezuela--three of Latin America's most lethargic economies. And it is weak in Brazil, where it has less than 1% of the market. And while IMPSAT's management expects revenues to jump 28% this year to $228.5 million, the stock has been trading below its $17 issue price since April--thanks to investors' current aversion for both Argentine and technology stocks.
IMPSAT's potential suitors could include AT&T, whose Latin America unit just completed its own IPO, as well as Bermuda-based Global Crossing Ltd. But CFO Jofre claims that IMPSAT has enough cash to power it into early 2002, so it's in no hurry to sell out. "Why settle now when we're only getting stronger?" he says. "Let the others duke it out when the time comes." Whether that day is at hand, or far off, remains to be seen.
Before it's here, it's on the Bloomberg Terminal.
LEARN MORE