A Haven For Tax Free Shopping...Searches For An Economic Spark
Ariane Sains
When Heikki Reponen and his family rented a summer cottage on the Finnish island of Aland, it came with a promotional rate on tickets for a round-trip cruise to Grisslehamn, two hours across the Baltic Sea in Sweden. "The tickets cost nothing," says Reponen. "But we spent a lot of money on board buying tax-free."
That, of course, was the idea. While tax-free shopping disappeared for the rest of the European Union last July, it's thriving on the Baltic thanks to the Aland Islands. Although Finland is an EU member, the islands, with their 25,000 people, are exempt from EU tax regulations. The exemption is an outgrowth of Aland's autonomy, conferred on it by the League of Nations in 1921 when it became part of Finland. Because Aland had to approve Finland's EU membership, the island had leverage to keep its tax-free status when Finland joined in 1994. (Aland itself voted not to join.)
WORTH IT. By detouring ships on the Stockholm-Helsinki and Stockholm-Turku routes to Aland, as well as offering shorter day cruises, Nordic shipping lines have been able to boost passenger traffic and on-board sales that brought in $250 million for the first half of the year, 30% to 50% of the revenues of the biggest lines--Silja, Viking, and Birka. To keep the ships coming in, Aland politicians invested $5.8 million in 1999 to extend the dock at Langnas harbor on the southern side of the island. Most ships arrive there in the middle of night, dropping anchor for a scant 10 minutes before sailing on. Those 10 minutes put the ships officially outside the EU.
The Silja and Viking lines using the dock are paying back the island's outlay through higher fees. The two companies also pay a combined $1.3 million a year to Aland's main harbor city of Mariehamn for dealing with the extra traffic. Going via Aland means higher fuel costs. But Boris Ekman, Viking's marketing director, says the extra costs are worth it: "Of course, they affect our profit. But we don't have a choice." Without revenues from tax-free shopping, ticket prices on some routes would have to rise 1,000%.
For Swedes and Finns, whose alcohol and cigarette prices are among the highest in Europe, tax-free shopping is practically a birthright. On board, they load up cardboard suitcases full of Koff and Lapin Kulta beer, stacking them on wheeled luggage carriers strategically offered for sale next to the beer. They also grab plenty of hard liquor, cigarettes, chocolate, and perfume.
Island officials say there's no doubt that tax-free sales have boosted its economy by way of harbor fees, construction jobs at Langnas, and more day travelers. "It's good for us that tax-free disappeared elsewhere," says Danne Sundman, finance director for Aland's Government & Administrative Board. But officials also worry that increased boat traffic may harm the fragile Baltic Sea ecology, keeping tourists away. And while tax-free sales are a blessing, Aland's leaders wish more travelers would stay awhile.
A strong smell of apples wafts through the air while Peter "Bongo" Eriksson shows visitors around his Tjudo Winery. As family members press juice from the fruit, Eriksson expounds on how apple wine is flavored with different berries and distilled. He also explains his latest venture, Alvados, a Calvados-like apple brandy.
Eriksson, 37, founded the winery four years ago, with $50,000 from Aland and an equal amount from the EU offsetting his $383,000 startup cost. Although he voted twice against Aland joining the EU, Eriksson didn't have any problem taking the union's money. And he sells his wines in the tax-free shops on the ferries.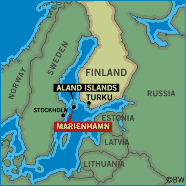 But he also opens his vineyard to paying visitors, about 30,000 this year, and arranges deluxe dinners accompanied by the winery's wines and brandy. That's the kind of entrepreneurship the island's government wants to encourage, to spread the economic base beyond tourism and keep younger people from leaving. With $666,666 in EU regional-development money, Aland's government has set up a program for farmers, restaurateurs, and craftspeople to sell local produce and handmade items as well as to help market the islands abroad.
Eriksson, who worked as an auto mechanic in Los Angeles before founding the winery, thinks the program will succeed because, at heart, Alanders are tied to their land. "I'm a farm boy," he says, "and you know that sooner or later, we always come back to the farm."