With its shares on the ropes, Xerox (XRX) has been dogged by speculation. The stock has plunged to 15--down from 30 in March--since posting disappointing second-quarter results. Rumors have swirled that Xerox could be easy pickings for a U.S. tech giant or a foreign company. Xerox has gotten feelers from several would-be suitors, including Hewlett-Packard and a group that includes Japan's Canon--which makes copiers, printers, and cameras--and Silverlake Partners, an investor group, says one pro. "But the talks have brought no conclusive results, so far." It would "make strategic sense for Hewlett or Canon," says one tech guru. He figures Xerox could fetch 30 to 35 a share, or $20 billion to $24 billion.
Buyout isn't the only way out. One fund manager thinks Xerox might split itself up or sell assets. "Breakup has to be an option," says David Giroux at T. Rowe Price, "if it were to create new value and enhance the stock." He puts Xerox' breakup value at 25 to 30 a share. It could sell some businesses, such as the home-office products division. That unit, he says, should post sales of $3.5 billion in 2001.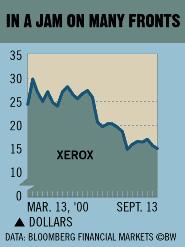 Fierce competition, a fumbled sales force revamp, and the falling euro have hurt Xerox earnings. Jonathan Rosenzweig of Salomon Smith Barney warns that Xerox has "limited wiggle room" to meet the lowered expectations for the next two quarters. But George Putnam III, editor of The Turnaround Letter, says the Street "overreacted, giving patient investors the chance to buy into a great franchise at a bargain price." Trading at 15 times estimated 2000 earnings, "Xerox looks pretty cheap for a company with a strong market position, good products, and one of the great brand names of all times," says Putnam, who sees the stock doubling in a year. Xerox declined comment.
Before it's here, it's on the Bloomberg Terminal.
LEARN MORE