Zee Tv: Looking For A Few Good "Millionaires"
While building an empire, it forgot about programming
Manjeet Kripalani
For years, nothing could tear Ganga Ramkrishna away from Zee TV. The 65-year-old Bombay matriarch loved Zee's soaps and talk shows. But nowadays, when she turns on her set in the evening, Ramkrishna surfs right past Zee and goes straight to Rupert Murdoch's Star Plus channel. Then she switches over to a spicy family drama playing on Sony India.
Ramkrishna is not alone. From Bombay to Calcutta, during the lucrative 8:30 to 10:30 p.m. prime-time hours, millions are deserting Zee. The deadliest blow of all: the new Star Plus hit Who Wants To Be a Millionaire. The Hindi version of the British-spawned show is huge in India--and it's not on Zee.
CHANNEL-CHANGERS. This is a remarkable reversal of fortune for Zee, and for its entrepreneurial chief and founder, Subhash Chandra. Entrenched as India's king of cable since 1992, Zee didn't take seriously the competition from Star Plus and Sony India--let alone from such new channels as B4U and independent production houses like UTV. Big mistake. Zee's viewership has dropped by 17% during prime time, while Star Plus is up over 500%, pushing Zee into second position.
The loss of viewers comes at a critical moment. Chandra's flagship, Zee Telefilms, made $63 million in net profit on $110 million in revenues last year. But revenue growth, normally running at about 35%, has slipped to 28% this quarter. That's still not too bad, but investors are worried that Chandra is spreading himself too thin. The hard-driving entrepreneur has embarked on a $650 million expansion, with the outsize goal of building an international communications empire. In the past few months, Chandra has been on a tear, entering rapidly liberalizing businesses like FM radio, voice-over cable, and Internet portals, all to position himself for the convergence of traditional broadcasting with the Internet.
This empire-building has distracted Chandra just at a time when Zee investors are growing disenchanted. They have been dumping Zee stock amid complaints of murky accounting and unprofessional management. Last year, Bombay-listed Zee had a market capitalization of $16 billion. Today, it's worth a quarter of that. And the company has postponed a planned $1.5 billion listing in New York. "Zee's supergrowth phase is over," says Samir Arora, head of Asian emerging markets for Alliance Capital Management Singapore. "It's time for the hard work to begin." Arora and others say Zee needs to start making more sophisticated TV and airing programs that Indians will gladly pay for, like movies and sports.
The 49-year-old Chandra got his start as a small-time grain trader in northern Haryana state, and went on to build Zee into India's foremost cable channel. Widely admired at home for having beaten Murdoch's Star, Zee's founder and main shareholder now finds himself in the embarrassing position of losing viewers to the Australian-born media baron. Both Murdoch's Star and Sony are investing heavily in Hindi-language programming. Moreover, by next month, Zee will have four more deep-pocketed cable and satellite channels to contend with: channel 9 from Australian media tycoon Kerry Packer, another launched by London-based Indian steel magnate Lakshmi Mittal, and two domestic players. All are after Zee's Hindi-speaking viewers.
CLEANING HOUSE. Like Sony, Zee has announced a slew of new programs to counter Star's rising popularity. Zee's lowbrow, hastily conceived answer to Millionaire flopped. Now it has plans for a quiz show that will offer the most prize money in the market: $2.2 million. "It's a signal to our viewers," says recently named chief executive Raj Kamal Singh, "that we're aware of market dynamics."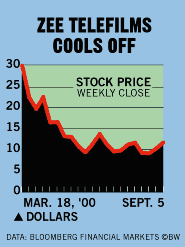 But industry insiders say the company also needs to put its house in order after years of being run as a one-man show by Chandra. Although Zee has recently hired several professionals in senior positions, staff morale is low and turnover high. Zee has recently hired consulting firm A.T. Kearney to help restructure the company.
The hard part will be convincing Chandra to focus on fewer new projects and to rein in ambitions that are simply too innovative for today's India. Not that anyone is writing him off. Chandra had a head start in the TV business--and can recover, provided his plans are well executed. Besides, he has the political connections to push through legislation that could allow cable companies to provide telecom services. A successful conclusion could turn Zee into the AOL-Time Warner of India. Whatever happens, Chandra's moves will make for good viewing.