U.S.: Will The Economy Heat Up In The Winter?
That's still possible, judging by the tight labor market
By
It was a cool summer, measured by both the weather and the economy. Chillier temperatures in the months to come are certain, but how cool the economy gets--and for how long--remain to be seen. Right now, though, the economic data, especially from the labor markets, leave little doubt that third-quarter growth is well below the 5% clip of the first half.
Of course, that's music to the ears of the Federal Reserve, Wall Street, and anyone else worried about inflation and interest rates next year. The accumulating signs of a slowdown are lifting the "fear of the Fed" that has been hanging over the financial markets all year, a key reason the Dow Jones industrial average rallied some 7% during August, along with an 11% jump in the Nasdaq composite.
But that rally, along with the one in the bond market, which has cut borrowing costs for many businesses and consumers, could provide fuel for a warming trend this winter. That's why the Fed is likely to continue its warnings that the economy remains vulnerable to inflationary pressures, though the chances of a rate hike are clearly fading.
In addition, the Fed knows that two key forces have supported the economy's consumer-led strength during the past two years: the healthiest labor markets in a generation and highly accommodative financial conditions. Not a lot has changed on either front.
To be sure, job growth has slowed (chart), but not so much as to imply any significant loosening in labor market conditions. The pool of available workers continues to shrink, and hourly pay of production workers keeps growing gradually faster. That acceleration comes at a time when productivity growth, while still very strong, may well have peaked for this business cycle.
THE AUGUST EMPLOYMENT REPORT showed that the labor markets were cooler but far from cold. Once again, the top-line number on job growth was distorted by the layoffs of temporary U.S. Census Bureau workers. Last month's strike by workers in the communications industry also skewed the totals. As a result, overall payrolls fell by 105,000. But adding back the 158,000 laid-off census takers and the 87,000 strikers yields a total increase of 140,000. That's no barn burner, but it's not too shabby, either.
Adjusted for census workers and the August strike, payroll gains have averaged 187,000 jobs per month this year. That's below the 229,000 averaged during all of 1999, but based on the patterns of the past decade, that pace is in the range that has been consistent with a stable unemployment rate.
Indeed, although the jobless rate edged up a tenth of a point to 4.1% in August, it's within the 3.9% and 4.1% range that has held all year. Contrary to the uptick in August joblessness, the pool of available workers--those reported as unemployed plus those who are not actively seeking a job but say they want to work--edged down, reflecting a drop in the latter group. This shrinkage hardly suggests a looser job market.
Increasing pay gains are also consistent with continued tight conditions. Hourly earnings of production workers, up 0.3% from July, are rising at an annual rate of 4% so far this year, after increasing 3.5% during all of 1999. The pickup has been driven by services.
PROBABLY THE BEST SIGN of cooler third-quarter economic growth is the slowdown in hours worked, which are on a track to grow little if any from their second-quarter level. Total worktime is often a good proxy for growth in real gross domestic product. Hours worked dipped 0.3% in August from July, when they barely rose from June. Consider that with no gain in hours, all of the third quarter's economic growth will have to come solely from productivity gains, but a repeat of the second quarter's 5.7% productivity surge is highly unlikely.
Construction will clearly be a drag on third-quarter growth (chart). So far this year, construction job growth has averaged 15,000 jobs per month, down from 25,000 during 1999. Past interest-rate hikes, meanwhile, are now hitting building outlays. Overall construction spending dropped a steep 1.7% in July, the fourth monthly decline in a row. Adjusted for inflation, real outlays at the beginning of the quarter already have fallen at an annual rate of 11% from the second-quarter level, with residential building down at a sharp 14.3% rate.
A key area sending a mixed signal right now is manufacturing: Government data on production and orders look strong, but several surveys of industrial activity look very weak. The job data don't help much. Factory-sector payrolls in August plunged by an unrealistic 79,000 workers after jumping by an equally unrealistic 51,000 in July. Manufacturing payrolls have been declining since mid-1998, but the pace of decline has slowed this year.
FACTORY WEAKNESS can also be found in the Purchasing Managers' Index, which shows that industrial activity fell in August to its lowest reading in 1 1/2 years (chart). The PMI, put out by the National Association for Purchasing Management, slipped to 49.5% from 51.8% in July. A reading below 50% suggests the industrial sector is shrinking. What's striking is that the decline in the PMI since February is nearly as sharp as the drop that took place in 1998 when U.S. exporters were hurt by the Asian financial crisis.
The current declines in production and total new orders mimic their 1998 drops, but the index covering export orders has not. Although export demand is off a bit from its first-quarter pace, says the NAPM, it remains quite robust.
This suggests the weakness in manufacturing is homegrown. The softness, particularly in the purchasers' data, may also reflect the fact that the recent gains in factory output have been concentrated in three high-tech areas that are lightly weighted in the NAPM index: semiconductors, telecom equipment, and computers. Keep in mind that the PMI measures the difference between purchasers reporting improved conditions and those reporting declines.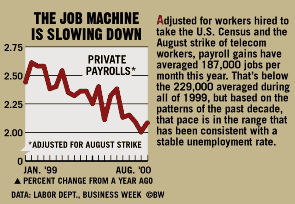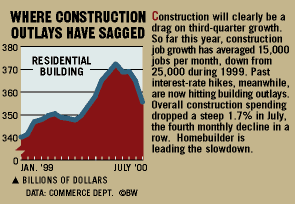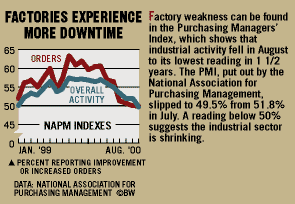 Based on government data, though, the trends in new and unfilled orders are both up, even when high-tech demand is excluded. And the nontech factory inventory-sales ratio is low, suggesting a need to lift production of goods outside of the New Economy industries. That means the PMI, factory workweek, and industrial production could rebound in coming months, and factory payrolls may stabilize.
The economy's performance in the next few months will be crucial for the outlook for price pressures and policy decisions in 2001. Right now, the betting is the economy and labor markets will keep cool for a while. But keep in mind that accommodative financial conditions could provide fuel to rekindle demand. If that happens, job growth could warm up again.