"There Is Not Enough Gas Around"
Utilities and households are pushing natural gas demand into the danger zone
Stephanie Anderson Forest
Natural gas is hot these days. Just ask the folks at Houston's Apache Corp. In January, the gas-and-oil independent shelled out $119.5 million for drilling and operating rights to properties in western Oklahoma and the Texas Panhandle. At the time, the company planned to drill about 30 wells there this year. But that was before natural-gas prices took off like a rocket. Now, Apache plans 150 wells. Tack on its other properties, and the company expects to sink 436 holes this year--a 236% increase over 1999. Nearly three-fourths of the projects are aimed at finding natural gas.
Apache isn't alone. Some 794 drilling rigs are now probing for gas beneath the U.S. That's an increase of better than 50% from a year ago. The hectic pace signals how clean-burning natural gas, long the neglected stepsister of crude oil, is finally coming into its own. It has emerged as the fuel of choice for just about everything other than cars and trucks. Besides heating homes, gas is used in commercial boilers and to provide heat for manufacturing operations. But the biggest new demand is coming from power plants. To generate enough electricity for air conditioning, and for America's exploding population of high-tech gadgets, electric utilities are building gas-fired power plants like there's no tomorrow. As a result, demand for natural gas no longer peaks in the winter or sags in the summer.
It all adds up to a major transition for the natural-gas industry--and permanently higher prices for customers. Today, gas provides a tad more than 20% of U.S. energy needs. Forecasts call for a jump to nearly 30% by 2015. With supplies already tight, this surge seems guaranteed to lock in high prices--with the possibility of drastic price spikes in the face of concerns about a near-term shortfall. "We could be in for a fairly serious crisis this winter," warns Robert L. Christensen Jr., senior energy analyst at FAC/Equities in New York. "There is not enough gas around," he says, to serve the twin masters of current demand plus storage for higher winter consumption by homes.
The American Gas Assn. (AGA) pegs current inventories at 2.1 trillion cubic feet (tcf), down 15% from a year ago. Recently, storage tanks have been getting weekly "injections" of only 42 billion to 52 billion cubic feet (bcf). At that rate, stocks may inch no higher than 2.7 tcf before winter. That's below the 3-tcf cushion normally salted away to get through even a mild winter. More Canadian gas should arrive before frigid weather, since Canada's new Alliance pipeline is slated to start pumping in November. Still, some experts doubt it will be enough. Longer term, the U.S. can't count on further increases from north of the border because "Canada has been struggling with tight supplies, too," notes Ronald Gist, an analyst at Houston energy consulting firm Purvin & Gertz Inc.
So industry observers worry that natural gas could soon mimic last winter's heating-oil crunch. To escape spiraling oil prices, many businesses and homes switched to natural gas. That swell in demand pulled down storage levels sharply, cutting inventories to a four-year low. If gas shortages spark soaring prices this winter, there will be little incentive to switch back.
FUTURES HIT RECORD HIGH. Even if this winter is unusually mild, natural-gas availability will probably get still worse next year. The Energy Dept.'s Energy Information Administration (EIA) estimates natural gas demand is growing 4.3% this year, while production is increasing by a mere 1%. Next year will be nearly as bad: 3.2%, vs. 1%. So gas prices, which have doubled this year, seem destined to keep on climbing. EIA pegs this year's average cost of natural gas at the wellhead at $3.09 per thousand cubic feet (mcf). That's 48.5% higher than 1999's average. But in futures trading on the New York Mercantile, natural gas recently hit a record $4.75 per mcf. Some analysts believe spot prices could zoom to $7 per mcf this winter.
No relief is in sight--not without an economic slowdown or a price war among the oil-producing countries. Most estimates call for natural gas to hover in the range of $3 to $4 per mcf for at least the next few years. "We're over the price-volatility hump," says George Mitchell, chairman of natural-gas producer Mitchell Energy & Development in Houston. "We knew this day was going to come," he adds, "just not to the extent that it has."
Utilities, which today account for about 15% of U.S. consumption, will continue to be the main growth driver. By 2015, twice as much gas could be burned in turbine generators to quench America's thirst for power. And come 2020, gas consumption by electric generators will climb to 9.2 tcf, or nearly triple what it was in 1997, according to the EIA. Because of the environmental crackdown on coal-fired power plants, "the only plant you can get sited and built quickly is a gas-fired plant," says Fred J. Fowler, group president of transmission for Duke Energy Corp.
All told, says analyst Christensen, utilities brought 22 big gas-fired plants on line this summer, producing 11,200 megawatts of power. Last summer, they flipped the switch on 32 plants with a combined capacity of 8,100 megawatts. Still, that's just the tip of the iceberg. "The really big additions will come in two or three years," says Christensen. "Those years could see 20,000-plus megawatts arrive each year."
Looking further out, the National Petroleum Council estimates that 110 gigawatts (a gigawatt equals 1,000 megawatts) of new gas-fired generation will be added by 2010--and 140 gigawatts by 2015. Keeping those turbines humming will require roughly 30% of total U.S. gas consumption. That seems certain to keep the pressure on supplies. Overseas, the situation is much the same. According to EIA, natural gas is the fastest-growing component of world energy consumption, largely because governments in Asia and Central and South America are promoting the fuel to relieve air pollution.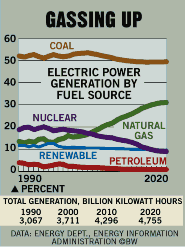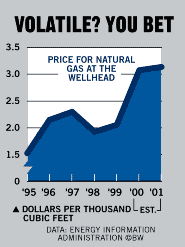 ONE WAY OUT. Finding enough gas to satisfy escalating demands won't happen overnight. There's a lag of up to 18 months between the start of drilling and the arrival of new gas in the marketplace, says AGA Executive Vice-President Roger Cooper. Meanwhile, although new technologies enable more gas to be extracted from existing wells, many natural-gas fields are showing signs of age. Growth in annual production has gone from flat to minus numbers since 1994. Today, gas extraction from old U.S. wells is declining by about 24% a year, says Mark G. Papa, CEO of EOG Resources Inc., an Enron Corp. spin-off. So far, imports from Canada--which jumped 111% in the last decade, to 13% of U.S. gas consumption--plus liquefied natural gas (LNG) from overseas, have plugged the gap. But with Canada's surplus rapidly vanishing, future options are getting murky. U.S. companies are ramping up LNG imports, but these carry hefty transportation costs, and LNG now serves less than 1% of the country's gas demand.
Industry execs see only one way out: fewer restrictions on gas-rich areas of Alaska and offshore sites in the lower 48 states. Gaining access to these deposits, they assert, could double reserves. Otherwise, says Raymond Plank, CEO of Apache, "at the rate we're going, I don't think supply will ever catch up with demand." If Plank is right, the supply glut that depressed prices for years is as good as gone. In that case, high prices are here to stay.
Before it's here, it's on the Bloomberg Terminal.
LEARN MORE