Overseas Suitors For Ultramar?
By
There's takeover talk down in the oil patch, too. One possible target: Ultramar Diamond Shamrock (UDS), an independent refiner and marketer. One investment banker says three foreign companies have expressed interest in Ultramar and have spoken informally with Ultramar. This banker says the suitors are BP Amoco, Royal Dutch Petroleum, and Total Fina Elf Petroleum. These foreign suitors are seeking to widen their refining and distribution outlets in the U.S., says the banker. The buyout valuation they are talking about, according to this pro, is 32 to 35 a share. Some analysts say that, on fundamentals alone, Ultramar is already worth 35. Ultramar hit 28 in May, and is now trading at 25.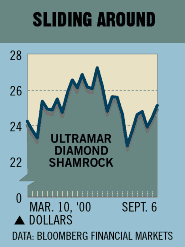 Ultramar operates six refineries--two in Texas and one each in California, Colorado, Oklahoma, and Quebec. The installations produce gasoline, diesel, and jet fuel. The company sells most of its products--together with nonfuel merchandise--in about 5,000 convenience stores in 17 states and Canada.
Ultramar posted record second-quarter results that beat Street expectations, thanks to strong downstream margins. This prompted some analysts to increase their estimates. Paul Cheng, an analyst at Lehman Brothers who rates the stock a buy, raised his 2000 earnings estimate from $3.60 a share to $3.70. His estimate for 2001 is $4.15. Ultramar didn't return calls. Total's Tom Saunders declined comment. Royal Dutch couldn't be reached. A BP Amoco spokeswoman says the company would never comment on any potential acquisition.