Mexico: Politics Isn't Derailing This Economy
Geri Smith
For the first time in a quarter century, Mexico is set to go through a presidential transition without a financial crisis.
Thanks to careful stewardship and a favorable international environment, the economy grew at an annual rate of 7.8% in the first half of 2000, capping five years of growth averaging greater than 5% annually. Plus, the current-account deficit fell to 2.6% of gross domestic product in the second quarter, reflecting the strong U.S. economy, which takes about 88% of Mexico's exports, and high world oil prices, which have also provided a first-half fiscal surplus.
Much credit goes to President Ernesto Zedillo's fiscal prudence after the 1994 peso crisis, and the independent Bank of Mexico's judicious monetary policy. In six years, NAFTA has doubled exports, to 33% of GDP, while nearly tripling foreign direct investment, to more than $11 billion a year.
This past year, Mexico put together $28 billion in contingency credit, in case of financial jitters during the political transition. And on Aug. 31, it prepaid the remaining $3 billion owed to the International Monetary Fund.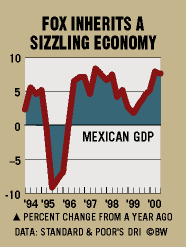 A top concern of President-elect Vicente Fox, who will take office on Dec. 1 as Mexico's first opposition-party President, involves the sizzling economy, which has created a skilled-worker shortage and lifted the peso to a two-year high. Peso strength is helping to cut inflation to single digits for the first time since 1994, but it's also fueling an import surge that could widen the current-account deficit.
Perhaps Fox's biggest challenge: With real wages rising for the first time since 1982, Mexicans want to enjoy the fruits of their sacrifices since the devaluation. But the Central Bank is committed to cutting inflation to around 3% by 2003 and will tighten policy if consumer spending, up 9% in the first half, threatens price stability. Higher productivity could help to limit inflation. Fox hopes to persuade Congress to reform investment rules in the key oil and electricity industries, boosting their efficiency.