Sometimes you've got to think small to make it big. Investment manager Scott Black notes that as electronic gear gets smaller, faster, and more complex, small-cap Kemet (KEM) is in the catbird seat. Kemet's specialty: tiny capacitors--used in cell phones and computers. Kemet makes the two most widely used types: solid tantalum capacitors, where it's the top dog, and multilayer ceramic capacitors, where it's No. 2. Both are used to store, filter, and regulate electricity and current flow.
"Kemet's business is exploding, with revenues and earnings at record levels," says Black, president of Delphi Management in Boston, who has been buying shares, now at 29 1/2. "The stock has yet to reflect the strong earnings power of Kemet," says Black. He expects the stock to hit 50 in a year. As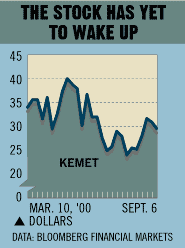 the leading manufacturer, Kemet will rise with the growth in electronics, says Black. The industry was hurt during the Asian crisis two years ago. But demand in the second half of 1999 turned up, resulting in firmer prices and solid earnings. Kemet supplies Motorola, IBM, Intel, and Texas Instruments. And among Kemet's top stakeholders: Citi-group, with 8%, and Fidelity, with 7%.
In fiscal 2000 ended Mar. 31, Kemet earned 85 cents a share on sales of $822 million. Black expects earnings of $3.85 a share on $1.2 billion in 2001 and $4.40 on $1.6 billion in 2002.
Analyst T.W. Smith of Standard & Poor's is also high on Kemet. Revenues will continue to soar in 2001, he says, "reflecting capacitor shortage amid an electronics industry boom."
Before it's here, it's on the Bloomberg Terminal.
LEARN MORE