Housing Numbers That Don't Add Up
Mistake? Fluke? Or has the boom in sales been reignited?
Stephanie Anderson Forest
For a while there, it looked as if the housing sector was feeling the brunt of the six interest-rate hikes the Federal Reserve Bank had orchestrated since June, 1999. After five years of white-hot growth, the interest-rate-sensitive industry had shown signs of cooling since spring. Indeed, everything from home sales to building permits had tumbled in recent months.
So imagine the Fed's confusion when July's housing data came in showing a sharp jump in new-home sales. Thanks to falling mortgage rates and the continued strength of the economy, consumers snapped up new houses at the fastest pace in seven years. Although that trend may turn out to be somewhat inflated, the low rates and strong consumer demand hardly bode well for future homebuyers.
CONTRADICTORY. What the heck is going on? While most analysts had expected a mere 1% increase, new-home sales soared 14.7% in July to a seasonally adjusted annual rate of 944,000, up from 823,000 in June, according to the Commerce Dept. But that surge contradicts other recent housing data. The National Association of Realtors reported that existing-home sales dropped 9.6% in July. Similarly, housing starts fell 3.3%, and building permits were down 2%.
Since the new-home sales report is often subject to severe revisions, some economists were quick to discount it. But others warn against doing so too hastily--and for good reason. For starters, even as the Fed has pushed short-term interest rates higher, mortgages and other long-term interest rates have been falling. According to Freddie Mac, the big mortgage purchaser, the rate on a typical 30-year fixed-rate mortgage hit a five-year high of 8.64% in May. Since then it has fallen to around 7.96%. That's spurring new-home sales. "Lenders believe the Feds have reduced the risk of long-term inflation [through recent short-term hikes] and so they are charging homebuyers lower prices," says Doug Duncan, chief economist at the Mortgage Bankers Association of America (MBAA).
Not surprisingly, such low rates have kept mortgage applications fairly strong. For the week ended Sept. 1, the index of mortgage applications increased 17% over the same week a year earlier, according to MBAA. Indeed, analysts say the drop below the psychologically important 8% level probably spurred a fresh round of buying.
Why new houses in particular? Since January, median new-home prices nationwide have dropped 2.5%, while the median price of an older home--where the multiyear boom has left supplies tighter--has risen 8.3%.
PRICIER. In the months ahead, though, sales of old houses may well pick up. The gain in new-home sales coincided with a drop in new homes on the market. New-home inventory shrank to 3.8 months' worth in July, the lowest since December, 1998. But the inventory of existing homes has once again begun to rise. It now stands at 4.2 months' supply, up from 3.3 months supply in June and 2.6 months' worth in January.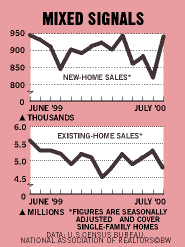 Still, new home builders are counting on the good times to last. They say demand for new homes remains frothy. "We are raising prices to hold down orders," says Robert Toll, chairman of luxury homebuilder Toll Brothers Inc., which has a 10-month backlog of home orders averaging $475,000 each. In Northern California, for example, Toll has raised its average home price by $100,000 over the past six months, to $650,000. At Dallas-based Centex Homes, the average price has risen about 4% in the past year, to $196,314. Meanwhile, the company is sitting on a record backlog of 8,707 orders, up 14% from a year ago. "We've been waiting for the slowdown to impact us, but so far it hasn't," says CEO Timothy R. Eller. Unfortunately, that's not exactly the reaction the Fed hoped to induce.
Before it's here, it's on the Bloomberg Terminal.
LEARN MORE