Europe's Struggling Travel Mecca...Heads Straight For Tomorrowland
Inka Resch
Arriving at Marne la Vallee station just east of Paris, you step off the train into a transplanted bit of Americana. Country music blares from speakers, and the smell of hot dogs and popcorn wafts through the air. In the middle distance, Sleeping Beauty's castle shimmers under its candy-coated facade, luring guests to Euro Disney's gates. "They put so much work into everything, and it's so clean," marvels Ingrid Martin, from Saint-Maximin La Sainte Beaume in the southeast of France. After four days at Euro Disney, the Martin family--including three cowboy-hatted children between 3 and 13--talk eagerly about next time.
The Martins are not alone. Thousands of European families--41% of them French-- flock to Euro Disney every day, rain or shine, making it Europe's top tourist destination, with 12.5 million visitors in 1999. Average spending per guest within the theme park last year rose to $35 per day. High-speed trains from London and Brussels whisk passengers straight to the park at 300 kph.
But despite its popularity, Euro Disney struggles mightily to make money. Although revenues hit a record $837 million last year, net income plummeted 46%, to $21.5 million, mainly because of the resumption of royalty payments to the American parent company--after a five-year moratorium. Debt has been teetering around $2.2 billion for the past six years. Although red ink was expected from the onset, an unexpected economic slump in the early 1990s and disappointing visitor turnouts dampened rosy early projections. Euro Disney's stock has fallen roughly 87% since its first day of trading, in October, 1989. "It's catastrophic," says Gilles Raffort of ING Barings-Ferri, referring to Euro Disney's share price.
The share price on Aug. 23 was 56 cents, roughly half what it was a year ago. Shareholders are unlikely to see dividends anytime soon. The company's previous CEO, Gilles Pelisson, left in May after only three years on the job--which may mean that the directors are just as frustrated as the shareholders. Because Walt Disney Co. owns 39% of Euro Disney, the leadership of the Paris company is at the mercy of an existing structure that it cannot change or influence. "For a CEO, that is very frustrating," says Raffort.
CRIMPED. Despite the benefits of the Disney name, the royalties arrangement has been a bite into a poisoned apple. Overly optimistic projections of tourist spending, combined with the ravages of a recession at the time of the park's inauguration in 1992, were among the factors that forced the company to restructure its debt in 1994. Euro Disney subsequently lowered its hotel prices and park entrance fees, but profits are being crimped by the resumption of royalty payments. What's worse is that some licensing fees are set to double in 2004 and other fees will climb after that. "The financial structure is such that the group cannot relieve itself of its debt," says an analyst in Paris.
Problems notwithstanding, Euro Disney has ambitious plans to develop a second theme park on adjacent land and is involved in a multitude of real estate projects including a huge mall, a business park, and housing in the brand-new town of Val d'Europe. The focus of the $556 million new park, Disney Studios, will be the history of moviemaking and special effects. The park is expected to attract roughly 5 million additional people, following its 2002 opening. Euro Disney hopes it will also increase the average 2 1/2-day stay by an extra day, allowing the company to capitalize on its investments and all the affiliated infrastructure it has put in place. "This is the time to start flapping and fly," says Euro Disney's new CEO, Jay Rasulo.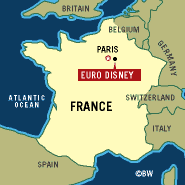 Growth is the current strategy. Rasulo says there are even plans for a third park, but he gave no details. He stresses the long-term nature of his company's activities and says: "We will reduce the importance of debt simply by being more profitable and by continuing to grow." Some analysts don't agree, saying that the second park will help attract visitors and raise revenues in the short term, but as the novelty wears off, it might cannibalize revenues from the original park. If the attractions are to retain any magic in a Disney-saturated Europe, some hard thinking is in order.
Before it's here, it's on the Bloomberg Terminal.
LEARN MORE