Cell Phones: Samsung Goes For The Frills
The electronics giant guns for its rival's upscale users
Moon Ihlwan
When Samsung Electronics began selling mobile phones in the U.S. in 1997, Radio Shack refused to carry them because they were so obscure. Only when the chain ran out of Qualcomm Inc.'s better-known handsets did it agree to sell Samsung phones.
Fewer than three years later, Samsung cell phones are ringing across the U.S. "They're coming in very aggressively," says one Motorola Inc. manager. "You see them everywhere." Having sprinted to become the world's fourth-largest handset maker, the Korean electronics giant is gunning for the Big Three--Ericsson, Motorola, and Nokia (chart). To help it prevail in a battle that promises to be hard-fought, Samsung is fielding a slew of models with cool features. Coming to the U.S. in November: the Uproar. It dials on voice command and does double-duty as an MP3 player.
In cell phones, at least, Samsung seems to be moving away from the hoary strategy of undercutting the big brands with generic knockoffs. "We'll no longer repeat the mistake of expanding market share at the expense of profits," says Kim Woon Sup, who heads up the company's telecom planning division. Today, Samsung charges about the same--or even more--for its handsets than does Nokia.
In 1996, Samsung gambled by making phones that would use the CDMA standard developed for North America. Skeptics abounded. Many still feel that CDMA will lose out globally to the GSM standard, which is predominant in Europe and much of Asia. Either way, to do well with CDMA, Samsung has had to move a lot of phones in the U.S. It started by testing them at home, where CDMA is the standard. In the last few years, Samsung has launched nearly 100 new models in Korea, where more than half the population now owns portables--the bulk of them Samsungs.
For now, the bet seems to be paying off. Last year, Samsung grabbed a third of the global market in CDMA phones. Through a partnership with mobile-phone provider Sprint PCS, it has secured 22% of the U.S. market. Samsung beat Nokia to the punch with the new Wireless Application Protocol, or WAP, phones that surf the Web. Today, Sprint carries four Samsung models and two from Nokia. Moreover, Sprint and Verizon, another U.S. carrier, say they'll support "CDMA 2000" when the high-speed, third generation phones come on line.
Nor is Samsung ignoring GSM. In the past two years, its share of the European market has climbed from nothing to some 2.5%, prompting Samsung to open a factory in Spain that can crank out 1.4 million GSM phones a year. Worldwide, Samsung expects to sell 25 million units this year, up 51% from 1999, when the handset division contributed some 20% to Samsung Electronics' $2.9 billion in net profits.
CHIP POWER. But will a company with 6.3% of the global market be able to catch its nearest rival, Ericsson, with nearly twice the share? Critics say Samsung's inability to build the chips that power phones will hold it back. Nokia and Ericsson design theirs, while Motorola makes them. Samsung still buys most of its CDMA chips from Qualcomm and its GSM chipsets from Philips Electronics. It makes only a small percentage for the home market.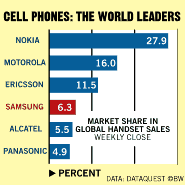 Yet Samsung claims its long experience making home appliances will give it an advantage as phones continue to blur with digital assistants and music players. Executives say its prowess in semiconductors will also allow Samsung to build the multitask chips that will power the next generation of phones. "None of the Big Three has the capability to integrate all those features in handheld products," argues Park Sang Jin, Samsung marketing chief. Still, home appliance makers like Philips, Sony, and Matsushita Communication Industrial have their own ideas about dominating the wireless world.
Samsung prospered by jumping into CDMA when few dared--and in so doing bested Schaumburg (Ill.)-based Motorola in the CDMA market. To make the next leap, Samsung must spend more on research and development or seek alliances with those with the latest technology. Not to do so would be to squander the gains Samsung has made so far.
Before it's here, it's on the Bloomberg Terminal.
LEARN MORE