"Bridgestone Just Doesn't Have A Clue How To Handle This"
The company's lack of PR savvy is making the tire crisis worse
Irene M. Kunii and Dean Foust
By Japanese standards, Bridgestone Corp. President Yoichiro Kaizaki is a star. He first proved himself when he took over Firestone Inc., the tiremaker's floundering U.S. subsidiary, in 1991, pushing the unit onto a growth track in just two years. Bridgestone named Kaizaki top executive of the entire Tokyo group in 1993, and he is credited with globalizing operations and doubling profits.
Now that Bridgestone is facing the recall of millions of potentially defective tires in the U.S. and elsewhere, one might think a hard-driving boss like Kaizaki would be leading the battle to defend Bridgestone's reputation. Think again. Like most Japanese execs who find themselves under scrutiny, he is lying low. In fact, he hasn't made a public appearance since Bridgestone announced its recall of Firestone tires on Aug. 9. Yet if Kaizaki doesn't take control, his company could end up with a tarnished name with U.S. consumers that could cause untold damage.
"MURDER." Bridgestone's behavior speaks volumes about the huge gaps that exist between U.S. and Japanese management. "This is a huge crisis, but Bridgestone and Kaizaki are handling it terribly," says consultant Till Vestring, a vice-president at Bain & Co. Japan. Adds one American former Bridgestone/Firestone executive: "They just don't have a clue how to handle this."
That fact was reinforced Sept. 6 when Masatoshi Ono, CEO of Firestone in the U.S., made a deferential but fumbling appearance before the Senate transportation subcommittee. The senators weren't in the mood to accept Ono's declaration of "full and personal responsibility" for the more than 100 deaths that have been blamed on disintegrating Firestone tires. Senator Arlen Specter (R-Pa.) declared that if the company deliberately put defective tires on the road it would amount to "second-degree murder." Ono did not respond.
In his testimony, Ono summarized Bridgestone's strategy for pulling out of the crisis. The company has already replaced 2 million tires and is air-shipping further replacements from Japan. He promised to release internal data on tire production and otherwise cooperate with investigators.
Still, Bridgestone's overall strategy seems to be a dogged one of hunkering down and waiting for the cloud to blow over. Such behavior is the norm in Japan, where few managers are comfortable dealing with the press and investors. "The Japanese don't understand the value of PR," says the U.S. exec.
Moreover, the company's crisis-management strategy is hobbled by the fact that all power emanates from Japan. One former U.S. Bridgestone manager recalled a U.S. management council with an equal number of Americans and Japanese. After the group met, the Japanese would hold a separate meeting to make the final decisions. And ultimate authority always resided with Kaizaki. This rigidity is now compounding Bridgestone's problems.
LAWSUITS. In late August, Bridgestone announced that it was taking a $350 million one-time charge against earnings for the recall. Noriaki Hirakata of Morgan Stanley Dean Witter in Tokyo projects that global revenue will decline from $19.7 billion this year to $17.8 billion in 2001.
The situation promises to keep Bridgestone/Firestone lawyers in the U.S. busy for years. Product-liability lawyers estimate that the tiremaker could face damages and legal costs of $1 billion or more.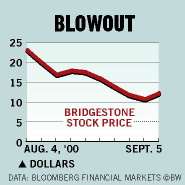 The taciturn Kaizaki, 67, may himself be called to the witness stand when the lawsuits flood in. During a period of labor unrest in 1994-96, he is said to have demanded that wages be linked to productivity. Striking workers sacked from the troubled Decatur (Ill.) plant have charged that their replacements stinted on quality. Bridgestone strongly denies the charge by what it calls "disgruntled workers."
But the attack demonstrates anew that Bridgestone is very much on the defensive, and the damage is mounting. "You need a general leading the troops," says Bain's Vestring. Unfortunately, neither Ono nor Yoichiro Kaizaki seems to fit the role.