American States: Not Treading Water
By
There aren't many public water companies to get excited about: Most of them are just adrift. But forget the fundamentals in sizing up water stocks. The name of the game is takeover. The way to invest in the industry, says Timothy Winter of A.G. Edwards & Sons, is to play the takeover candidates. The industry is undergoing a massive wave of consolidation, says Winter, partly because the business is capital-intensive.
The next target, say some pros, may be undervalued American States Water (AWR). European companies have acquired several U.S. water companies in the past year. But the most aggressive buyer is American Water Works, the nation's largest regulated water utility. It recently acquired SJW (San Jose Water).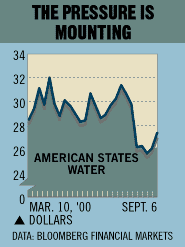 Now trading at 27, American States Water hit 31 in July--before the company filed for a secondary stock offering. AWR has a book value of about $18 a share. Recent buyouts have been done at 2.5 to 3 times book value. AWR is trading at just 1.4 times book. At 2.5 times book, AWR would be worth 45.
It would make perfect sense for American Water Works to zero in on American States Water now "when the stock is such a compelling value," says one big investor. Analyst Clifford Walsh of Value Line says he doesn't rule out AWR becoming a target. Winter says AWR is "a quality company and is considered to be a takeover target by many." An AWR spokeswoman declined comment.
Before it's here, it's on the Bloomberg Terminal.
LEARN MORE