U.S.: Why The Fed Can't Relax Just Yet
Despite some slower stats, financial conditions haven't tightened much
by
Wall Street is easing into the notion that the Federal Reserve's work is done. Rate hikes totaling 1 3/4 percentage points since June, 1999, appear to be having their desired effect: Overall demand, led by a cooler pace of consumer spending, has slowed, even as strong productivity growth gives the economy more room to run without spurring inflation. Some Fed watchers are even starting to speculate that the Fed's next move in 2001 will be a rate cut.
Whoa! Not so fast. True, chances of further hikes this year have diminished sharply. But the issue of the economy's strength heading into next year--and its implications for inflation--is far from settled. Consumer spending and housing led the summer slowdown in demand, but will those key sectors stay subdued enough to keep the Fed happy?
Recent data are hardly conclusive, especially given the surprising surge in July sales of new homes and the high level of consumer confidence in August. At the same time, third-quarter growth, measured by real gross domestic product, is likely to look tame. The Commerce Dept.'s revised second-quarter GDP barely changed the top-line growth rate--to 5.3% from 5.2% originally--but the underlying data indicated less demand than first reported and a good bit more inventory-building. That combination will likely mean more moderate third-quarter growth.
STILL, GROWTH COULD EASILY pick up steam into 2001. Here's why: Despite the Fed's actions, overall financial conditions have not tightened very much (chart). Although banks are pickier about which businesses they lend to, borrowing rates for both businesses and home buyers are generally down from May, and the stock market has picked up.
The Fed's August Senior Loan Officer Opinion Survey shows that banks have significantly raised their lending standards for businesses both large and small. Excluding a big squeeze during the 1998 financial turmoil, lending standards are the tightest in almost a decade. Small businesses, which tend to rely more heavily on bank lending, will feel the hardest pinch.
Large companies, which have other financial sources ranging from credit markets to equity capital, may be feeling nothing. For example, the average rate on 20-year, top-rated AAA corporate bonds is about the same as it was when the Fed began lifting short-term interest rates last year, and the lesser-quality BBB rate is about 40 basis points higher. Both rates are down from May of this year: The AAA rate is down about 50 basis points, to 7.5%, and the BBB rate has fallen about 70 basis points, to 8.8%.
Moreover, although stock prices have been up and down this year, the tech-heavy Nasdaq composite index is still up 52% from the onset of Fed tightening, and the broad Wilshire 5000 index is up 12%. Even many fledgling tech companies have access to venture capital. In addition, overall corporate profits are growing vigorously, providing a healthy flow of internally generated funds. The Commerce Dept. reported that adjusted-book profits in the second quarter rose 15.2% from a year ago, the strongest showing in more than four years.
HOUSEHOLD FINANCES remain in relatively good shape. Although debt-service payments on the non-mortgage debt of households now stand at an expansion high, the level is still below the peak of the 1980s debt binge. The same is true for mortgage debt. Plus, home values and stock prices have grown far faster than household debt, resulting in a record level of household net worth. That's one reason delinquency rates on all types of household loans remain low. Delinquencies for credit cards, revolving accounts, and personal loans are all below their year-ago levels.
Amid all this, and considering the strong job markets, it's easy to see why consumers still feel so upbeat. The Conference Board's index of consumer confidence dipped to 141.1 in August, but the July reading was revised to 143, close to the record 144.7 hit in both January and May (chart).
Buoyed by such strong supports, consumer spending already is looking firmer, after rising at a tepid 2.9% annual rate in the second quarter. In July it rose a solid 0.4% from June, adjusted for inflation. If outlays in August and September were to match the July pace, spending this quarter would climb at a 4% annual rate.
Strong consumer fundamentals also explain why home demand remains so buoyant. Typically, housing is one of the Fed's whipping boys when it comes to slowing the economy. But given the current solid financial state of consumers, the Fed can't count on a sustained housing slowdown just yet. True, the steady drop in housing starts this year suggests that residential investment is a drag on third-quarter real GDP. But the available data on sales, builders' attitudes, and mortgage activity suggest housing is unlikely to continue its decline in coming quarters.
THANKS TO MORTGAGE RATES that have slipped below 8% again, buyers continue to snatch up new homes. They sold at an annual rate of 944,000 in July, a jump of 14.7% from June. New homes sales in 2000 are running on par with their record pace of 1999. The high level of new-home demand explains builders' more upbeat outlook, according to the August reading from the National Association of Home Builders.
Sales of existing homes have softened a bit this year, dropping 9.8% in July to an annual rate of 4.79 million. Resales, meanwhile, are running at an average of 4.93 million so far in 2000. That's below last year's 5.2 million homes resold--the all-time record--but it's not much below the pace in 1998, the second-best annual showing.
Demand for housing should remain solid enough to turn around the current weakness in housing starts. That means spending for appliances, electronics, furnishings, and textiles will remain robust. Sales at furniture stores are already running 8.2% ahead of year-ago levels, and consumer purchases of durable goods generally picked up sharply in July.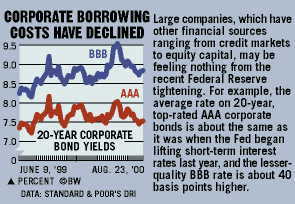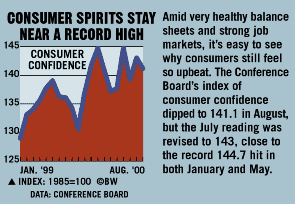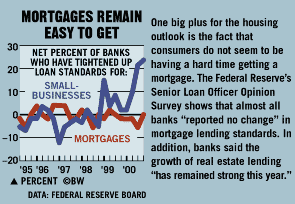 One big plus for the housing outlook is the fact that consumers certainly do not seem to be having a hard time getting a mortgage. The Fed's Loan Survey shows that almost all banks "reported no change" in mortgage lending standards (chart). In addition, banks said the growth of real-estate lending "has remained strong this year." That opinion is underscored by the very high level of mortgage applications for home purchases as tracked by the Mortgage Bankers Assn.
So far, the Fed seems happy to let the results of its past tightening efforts play out before making another move. But don't read too much into the Fed's current inaction. Recent strong data--and perhaps more to come--may be suggesting that financial conditions, while tighter, may not yet be tight enough..
Before it's here, it's on the Bloomberg Terminal.
LEARN MORE