South Korea: The Economy May Be Picking Up Too Much Steam
by
South Korea's recovery continues to impress. After two years of recession and weak growth caused by the 1997 financial crisis, the fear now is that the economy may be getting too hot.
Korea's real gross domestic product increased 9.6% in the second quarter from the year before. The gain, in line with expectations, was led by a jump in business investment in equipment and by exports--especially semiconductors and telecommunications equipment.
While second-quarter expansion was less than the first quarter's 12.8% surge, the spring advance continues the trend of nearly double-digit economic gains following the nation's 1997-98 recession.
Korea's consumer sector is also picking up steam, thanks to the vast improvement in labor markets. Businesses have added nearly a million jobs in the past year. And the unemployment rate dipped from 3.8% in June to 3.7% in July, a 2 1/2-year low (chart).
The International Monetary Fund is forecasting that Korea will grow 8.5% for all of 2000. Declaring the nation is staging an "impressive recovery," the IMF approved a $720 million loan installment on Aug. 23.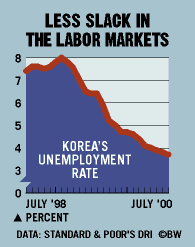 But the government has said it will not accept the loan and instead will work on the economy's structural problems. High on the list of woes is the country's fragile financial system and the economy's dependence on industrial groups, the chaebol. Politicians with connections to the chaebol have been pressuring the Bank of Korea not to tighten monetary policy. The BOK, however, would probably like to begin hiking short-term interest rates in order to curb increasing inflation pressures.
Right now, that may be a luxury. To fix the financial system, the government will have to spend more public funds. And if it cannot raise enough funds, Seoul may have to print money. The bottom line: Unless its financial system is stabilized, Korea--even with its stellar growth rate--remains vulnerable to outside shocks and the whims of foreign investors.
Before it's here, it's on the Bloomberg Terminal.
LEARN MORE