Revving Up At Speedway
by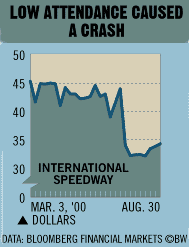 Would you believe a NASCAR race not selling out? No way, right? Demand for seats is typically well ahead of supply. But the impossible happened: At the July 1 Pepsi 400 at Daytona (a Winston Cup race), attendance was lower than expected. That sent the stock of International Speedway (ISCA) reeling: Trading at 42 1/4 on July 3, shares of the leading promoter of motor-sports activities dropped to 33 within days. Analysts cut their earnings estimates due to concern that interest in car racing may have peaked. But the stock, now at 33, should pick up speed, say some pros. "We don't buy the idea of dimmed interest in this 50-year-old sport," says Robert Hagstrom Jr., portfolio manager at Legg Mason Focus Trust Fund. "Speedway is the largest of the operators, and its two new tracks--in Chicago and Kansas--will contribute big cash earnings starting in 2001," says Hagstrom, who wrote The NASCAR Way. Speedway, he says, which owns and operates various facilities, including Daytona International Speedway and the Phoenix International Raceway, is surely in an upswing. Some 80% of season tickets for Speedway's new track in Kansas are said to be already sold.
David Riedel of Salomon Smith Barney says Speedway will benefit from NASCAR's new broadcast partners in 2001--NBC, Turner, and Fox. Their resources will be "very powerful in raising the profile and momentum of the sport," says Riedel. The current broadcasters--CBS and ESPN--haven't been putting much into promotion, he adds. Investors are undervaluing Speedway's "high-growth potential, its dominant position in motor sports, and its strong financials," says Riedel.
Before it's here, it's on the Bloomberg Terminal.
LEARN MORE