Pushing The Envelope At Germany's Post Office
Deutsche Post is bucking the odds with a $9 billion IPO
Jack Ewing
Klaus Zumwinkel, the low-key CEO of Deutsche Post World Net, is pretty relaxed for a guy getting ready to go public with up to $9 billion worth of stock. And this is no run-of-the-mill initial public offering: The 500-year-old German national post office is one of the best-known institutions in the country, and many Germans fear service will be sacrificed for profit. Meanwhile, rivals are complaining loudly that Zumwinkel is using monopoly profits to finance an aggressive expansion. There's even a nasty investigation.
But Zumwinkel is betting that the Deutsche Post offering will be an unlikely hit when it's listed on the Frankfurt exchange in early November. And the 56-year-old chief executive has no plans to stop there. He wants World Net to dominate the European market for parcel and express delivery services the way United Parcel Service Inc. dominates in the U.S. "Customers are longing for a Europewide network," Zumwinkel declares in his Bonn office.
Zumwinkel thinks they're also longing for the kind of New Economy stock play Deutsche Post represents. True, the markets are awash in the disappointing IPOs of undistinguished dot-coms. But the Internet is still reshaping the way orders are placed and filled. E-commerce in Europe, according to a Gartner Group estimate, will grow to $160 billion in 2002, from $13 billion last year, and that represents clear opportunities for the best-positioned shipping companies. Shares in Stinnes, Germany's big freight and logistics company, have doubled since listing a year ago. As to Deutsche Post's IPO, the market is intrigued. A successful issue of a one-third stake could value Deutsche Post at up to $27 billion. "The potential is definitely there," says Gerd Schubert, a fund manager at Deka Deutsche Kapitalanlagegesellschaft in Frankfurt.
GETTING READY. It's not a well-worn path. The Netherlands' TNT Post Groep is the only postal monopoly in Europe no longer 100% controlled by government: It was listed in 1998. As Germany prepares to sell an initial tranche of Deutsche Post, France's La Poste and Britain's Royal Mail are moving slowly to prepare for 2003, when European Union rules will eliminate monopolies on letters of more than 50 grams. But Zumwinkel could end up forcing the pace--marking another rollback of government in the European economy.
Zumwinkel, a veteran of McKinsey & Co. and a former CEO at Quelle Group, Europe's largest mail-order house, has been reshaping Deutsche Post since he arrived in 1990. He has spent $5 billion on acquisitions over the past year, including the $840 million purchase of Basel-based shipper Danzas Holding. He now presides over Europe's largest logistics company, as well as a global network of trains, planes, trucks, and--most important--expertise. Company sources expect Deutsche Post to shed its German identity in coming years and call itself simply "World Net."
Zumwinkel's strategy could work. Europeans are looking across borders for the best buys, whether in industrial goods or consumer products. Companies are using the Internet to ship products directly from factories to customers. These trends favor logistics companies such as Zumwinkel's. They will also cash in on the globalization of trade. A third of all goods now cross borders, up from 20% in 1995, according to a study by the Technical University of Berlin.
In an industry that is expected to consolidate in coming years, Deutsche Post has a healthy head start. But it still faces lots of competition from seasoned players. Even after its acquisition spree, Deutsche Post has just 16% of Europe's parcel and express market. Zumwinkel wants to boost that to nearly half--an ambitious target, to say the least.
What's more, the real money is in providing the information technology and consulting that cut the cost of moving goods among suppliers and customers. "The company that brings multiple solutions is the one that's going to prevail," says John Warrick, president of UPS Europe. Zumwinkel boasts some big customers. Deutsche Telekom just agreed to outsource its materials handling and transport to a Deutsche Post unit. But Zumwinkel will need more such deals to compete globally.
This isn't Zumwinkel's first big leap. In the wake of reunification, he had to absorb the inefficient, spy-ridden East German post office. Since then, Zumwinkel has cut the workforce--some of whom still deliver mail on quaint yellow bicycles--by more than a third, to 244,000. Last year, Deutsche Post reported net income of $1 billion on sales of $20 billion. That compares with a loss of $576 million in 1995.
But the toughest work may lie ahead. Almost all of Deutsche Post's profit comes from its German monopoly on letter delivery, which it will lose as early as 2003. Zumwinkel must also forge his acquisitions into a global network before they bring in big profits; logistics contributed just $45 million to last year's net. "The real challenge is to leverage all of our options," Zumwinkel concedes. "There's still a lot to do."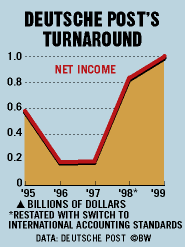 Indeed there is. Many postal customers assert that the rush to internationalize has come at the expense of domestic services. Rivals are grousing, too. The European Union is investigating a charge by UPS that Deutsche Post improperly used letter-carrying profit to finance its international expansion. Deutsche Post denies the accusation and says it expects to prevail. But in the worst outcome, the case could cost Deutsche Post millions of dollars.
Zumwinkel is unruffled. On Aug. 21 he broke ground for a 40-story glass office tower in Bonn with a fine view of the Rhine. Marketing the IPO? "I don't think it's so difficult a task," he says. Investors can only hope he delivers.
Before it's here, it's on the Bloomberg Terminal.
LEARN MORE