Polygamy's Victims Find Their Voice
Sandra Dallas
With her twin granddaughters, Reagan and Kennedy, playing underfoot, Rowenna Erickson sits at the kitchen table of her suburban Salt Lake City home and recalls her wedding. It was 40 years ago. Wearing a blue-and-white homemade dress, she stood next to her sister, who took her hand and gave it to her husband. Make that their joint husband, for that day in 1960 marked Erickson's entry into polygamy.
Rowenna Erickson eventually had eight children by her husband. Her sister, a midwife, delivered all of them--and had six of her own. And 11 years went by before Erickson moved out, to a tiny rented home of her own, where she lived on food stamps. She finally left the marriage in 1994.
Erickson never talked about what it was like to be a plural wife when she was one. These days, however, 60-year-old Erickson talks of little else. After years of shame, guilt, fear, and mental and physical illness, she says: "I realized I had been conned." Polygamy "is power and control in the name of religion."
Two years ago, Erickson joined with other former plural wives to form Tapestry Against Polygamy. "We are unraveling the threads of the tapestry of polygamy," says co-founder and Executive Director Victoria Prunty. Sipping a soft drink at a sidewalk table in Salt Lake City, Prunty talks of the two plural marriages she survived. Her forthright account, like Erickson's, is a sign of changing times. Polygamy, Utah's dirty little secret for 150 years, is under increasing scrutiny these days--thanks largely to Tapestry.
While many people view polygamy as a crime without victims, Tapestry's members say the practice is fundamentally degrading and rife with rape, incest, and abuse. With Salt Lake City hosting the 2002 Winter Olympics, Utah is eager to show that it no longer tolerates the second of the twin evils, as 19th century reformers called slavery and polygamy. "They practice all kinds of things we try to clean up in Third World countries," says Democratic State Senator Ronald Allen. "Early polygamy attracted feverishly religious people. Now, it's pedophiles and abusers."
Utahans, many of them descendants of "polygs," as polygamists were called, are ambivalent about the practice. The Church of Jesus Christ of Latter-day Saints, which outlawed polygamy in 1890--prior to Utah's obtaining statehood in 1896--supports Tapestry. (The Utah constitution is the only one in the Union with an antipolygamy clause.) But a Deseret News/KSL-TV poll in May showed that 26% oppose prosecuting polygamists. Few polygamists talk publicly, but the system has other defenders. "If laws against adultery aren't enforced, why enforce laws against polygamy?" asks GOP State Representative David L. Zolman. He calls polygamy a civil-rights issue. Others say it's a religious right.
By most counts, 30,000 to 50,000 men, women, and children are part of polygamous families. Many live along the Utah-Arizona border, where they are easy to spot: Even in summer, the women wear long sleeves and dresses buttoned up to the neck. Some polygamists are loners, others members of a dozen or more cults. Prunty says one polyg has up to 30 wives and 250 children. Most are fundamentalist Mormons who believe the church caved in to get statehood.
Tapestry has helped more than 300 wives and children get out of this wretched condition, directing them to social agencies and assisting in getting birth certificates and Social Security cards. Tapestry, which operates a Web site (www.polygamy.org), was also behind an antipolygamy bill in the last state legislature to spend $500,000 on health aid and prosecution. It passed in the Senate but died in a House committee; Tapestry vows that it won't go away.
Former plural wives say some polygs claim to be lineal descendants of Jesus and other Biblical figures and practice incest to keep blood lines pure. They marry nieces and half-sisters. This is bringing the attitude of "polynoprosec"--no polygamy prosecution, a common expression here--under attack in the courts, too. In July, David Ortell Kingston, a polyg who married a niece, was found guilty of incest and unlawful sexual activity. A few months earlier, a Utah man named Thomas A. Green was charged with four counts of bigamy and rape of a child. He is now awaiting trial. Juab County Attorney David O. Leavitt, the brother of Utah GOP Governor Michael O. Leavitt, charges that Green had sexual relations with one of his wives when she was 13.
While no official figures are available, a Salt Lake Tribune investigation two years ago revealed that a third of those in two polyg communities on the Arizona border get state aid; statewide, the figure is 4.7%. The money goes for more than food stamps and welfare. There's the cost of caring for deformed and retarded inbred children. And while wives and children live in poverty, some sects own multimillion-dollar businesses.
Kaziah M. Hancock had two plural marriages. At 15, she wed a polygamist she despised because he claimed God had ordained it. Hancock spent her days running his recycling business and her evenings attending to his needs. "What was holding me was the mind control," Hancock says. "Polygamy gives these guys more power than anyone should have over another human being."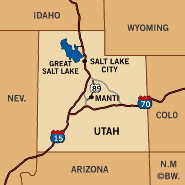 After 18 years, Hancock escaped, hiding for a time in a friend's basement. In 1987, she published Prisons of the Mind, about her terror and abuse. "I thought he was an evil man, but I still believed in the system," she says. So when her second husband wanted another wife, Hancock agreed. She even approached the woman for him. Hancock was divorced in 1997 after she realized that "I don't have to have somebody between me and God."
Now 52, Hancock lives in a three-meter-by-five-meter shed on six hectares of sun-washed mountain meadow near Manti, 200 kilometers south of Salt Lake. She restores oil paintings, sells her own art--portraits and farm scenes in a surprisingly sophisticated style--and raises chickens, goats, and a few sheep. "I think God kind of likes me," she says with a smile. It's a revelation that a growing number of ex-plural wives are making these days.