P Cs And Phones May Boost Rent Way
By
Big Board-listed Rent-Way (RWY) is creating a potentially large market for PCs and phones--through rentals. Investors have started snapping up Rent-Way shares again as they expect the stock, now at 24, to show a lot of pizzazz once the company's rent-a-PC plan (with full Web access) gets going. "Some 23,000 PCs have been rented out after 10 weeks of rolling them out in a few stores," says Chairman Bill Morgenstern. Rent-Way's phone rental plan is also going gangbusters, he adds.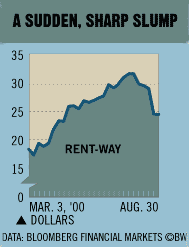 Here's how it works: Rent-Way rents out PCs equipped with Internet access for $19.95 a week, and phones are available at $30 to $50 a month for unlimited local calls. Rent-Way has 1,153 stores in 41 states that rent out merchandise, such as furniture and appliances--and now PCs and phones, too. Rent-Way has signed an exclusive pact for Gateway, a large direct seller of PCs, to provide the computers. Gateway has acquired $7 million worth of Rent-Way shares. The phones are supplied by dPi Teleconnect, which is 70% owned by Rent-Way.
Analyst Dennis Van Zelfden of Robinson-Humphrey, who rates Rent-Way a buy, says PC rentals should ramp up from 30 to 150 PCs per store by Sept. 30, 2001. He sees Rent-Way earning $1.83 a share on sales of $600 million in 2000, and $2.53 on $815 million in 2001. Van Zelfden expects the stock to hit 42 this year.
Before it's here, it's on the Bloomberg Terminal.
LEARN MORE