Beckman Coulter (BEC), formerly Beckman Instruments, is no glamorous technology or telecom play. But it's on a roll. The stock of this lab-gear maker has advanced 49% so far this year, as the Dow and Nasdaq treaded water. Trading at 50 in March, the stock hit 77 1/2 on Aug. 30. What's powering the surge? Good fundamentals--and takeover talk.
Analysts have raised earnings estimates for 2000 and 2001, given Beckman's "solid" second-quarter results. "Its growth rate is accelerating, based on its smart business model of selling drugmakers and biotechs both the hardware and chemicals used in labs," says investment manager Dan Veru of Palisade Capital Management. But what's enticing is the speculation that Beckman is a buyout target of Abbott Laboratories, whose customers are the same as Beckman's. Even so, few of their products compete, says a large institutional investor who has been buying. This lack of overlap makes Beckman a good fit for Abbott, he says.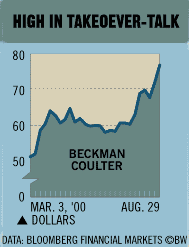 One analyst who believes the takeover rumor expects Abbott to bid $100 a share, based in part on the products it could add for markets Abbott already serves. "Beckman, with a market cap of $2.2 billion, would be an easy shot for Abbott, whose market cap is $66 billion. At $100 a share, Beckman would cost Abbott $2.9 billion. Beckman's says 2000 sales of $1.85 billion should rise to $2.1 billion next year, says one investor. "It looks like a win-win situation," he adds. Beckman CFO Amin Khalifa wouldn't comment on the rumor, but says fundamentals and new products are driving the stock up. Abbott declined comment.