Brazilians Get Ready To Start "Waaa Ping"
Cell-phone outfits and ISPs bet on a mobile Web revolution
Jonathan Wheatley
There's a cheeky new advertisement going out on Brazilian radio. "Walked into the living room this morning and there was my dad WAAAPing my auntie," says a teenager. "And there was my mum WAAAPing the weather service. So I thought fair enough, and WAAAPed my grandma."
The ad is for WAAAP, the name of the new wireless application protocol (WAP) service launched in July by Telesp Celular, a Sao Paulo state mobile phone company controlled by Portugal Telecom. WAP is the technology that provides access to the Internet over a mobile phone.
Europeans and the Japanese are already acquainted with WAP. Now it's Brazilians' turn. In a country where cellular phones already outnumber personal computers by 2 to 1, WAP and systems like it will offer Brazilians their first--and perhaps their only--Internet experience. And if WAP takes off in Brazil, it could kick off the next stage of the Net revolution in Latin America.
MASSIVE MARKET. Phone companies, equipment manufacturers, and Web portals are already scrambling for a piece of what promises to be a huge market. The most quoted prediction is that the total number of wireless Internet users in Brazil will surge to 600,000 by yearend, from zero in July when the first services were introduced. And that figure will rise to nearly 28 million by 2005, according to Yankee Group Inc., a research outfit based in Cambridge, Mass.
At the forefront of Brazil's WAP wave are the country's tech-savvy banks, which have lured 3.5 million customers into banking online via their PCs. "We're getting 2,000 new hits by mobile Internet every day," says Douglas Tevis, director of information technology at Banco Bradesco, Brazil's biggest private bank. He predicts that traffic on the bank's WAP-configured Net portal, launched in June, will eventually exceed that on its regular site, which logs in 200,000 visitors a day. "To use a computer you need some know-how. With WAP you just click on the menu and you're in," Tevis says. The bank's customers can use their mobile phones to check balances, pay bills, and transfer funds between accounts. Bradesco's rivals are also embracing the wireless Net: Banco Itau, Unibanco, and others have introduced their own WAP portals.
Internet service providers are also entering the fray. SeliG, the wireless division of iG, a free ISP with 2.5 million registered users, is developing an assortment of services, including traffic updates, cinema reservations, a restaurant guide, and games, all accessible over a cellular phone. It currently offers some of these goodies for free but will begin charging $2.25 a month before the year is out. SeliG is shooting for $10 million in revenues over the next two years.
Ironically, some of the laggards in Brazil's wireless Net race are cellular-phone companies. Those that use the code division multiple access (CDMA) standard--half of Brazil's 16 regional operators--were able to begin offering service in July. But those on the time division multiple access (TDMA) standard will have to wait until late September at the earliest before WAP-enabled handsets become available. Apparently, redesigning TDMA sets has been a struggle for manufacturers, since the format is older and less adept at handling data. "Brazil will be among the first markets to get them," says Hilton Mendes, director of product marketing at Motorola Inc.'s Brazil unit, which has been working overtime to churn out the sets.
That's small consolation for TDMA operators like Sao Paulo's BCP Telecomunicac centses, controlled by BellSouth Corp. BCP's rival, Telesp Celular, already claims 60,000 WAAAP customers. The service itself is free, but phone charges range from 17 cents to 23 cents per minute. And handsets run from $225 to $800. It may be sour grapes, but BCP Executive Vice-President Michel Levy believes that the mobile Net is being oversold. "It's not that fantastic," he says. "It may be user-friendly, but it's also pretty limited."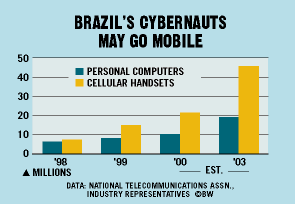 WAP advocates say that's the kind of carping that greeted early Internet services. Sure, navigating the Web using a cell phone can be tedious, since speeds only reach 14.4 kbps, compared with 56.6 kbps for most PC modems. But that will improve once the Brazilian government auctions licenses for three more cellular bands later this year. So by 2003, Brazilians will be uploading news reports and stock quotes at the eye-popping speed of 384 kbps.
One thing is sure: For the wireless Internet to take off in Brazil, the cellular market must continue to grow. According to the national telecommunications agency, Anatel, by 2005 Brazil will have as many mobile phones--58 million--as fixed-line ones. Meanwhile, ownership of personal computers is spreading only slowly. Forget the mouse. Pretty soon, one in five Brazilians will be WAAAPing one another.