Better? Not Patently
New patent rules may lengthen the application process
Alison Stein Wellner
No one has patented the concept of a ham sandwich. But until recently, you had to wonder whether the U.S. Patent & Trademark Office would at least have considered the idea. Critics have long charged the agency carelessly put its stamp on overly broad ideas that aren't true innovations, allowing companies to lay claim to vast terrain on the Internet, and that examiners do not adequately review "prior art"--technology that already exists.
That could be changing. In March, the agency introduced a raft of procedures, including a second layer of application review by senior officials, a more rigorous prior-art search, and more training for examiners.
Essentially, the patent office is playing catch-up with the New Economy. The number of applications for so-called business-method patents--mostly for e-commerce businesses and accompanying software--doubled from 1998 to 1999 (chart). It's expected to double again this year, making business-method patents the fastest-growing category of new patent applications by far.
The new rules could be a mixed bag for entrepreneurs. While they should help ensure that only truly innovative ideas receive patents, the extra scrutiny means that the already difficult process of securing a patent is likely to get tougher--and more time-consuming. That could mean problems for small businesses seeking to rush a new product to market, especially those operating on "Internet time." Even before the rules changed, it took Robert Wolfe, founder of MusicBooth LLC, a 10-person online advertising company in New Rochelle, N.Y., three years and more than $50,000 to get a patent, which he needed to begin seeking capital. "These new rules could be terrible," he says.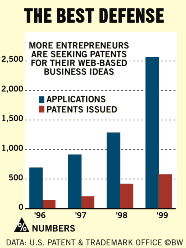 Is there any way to avoid the lengthy process? It depends on the invention, says Don Pelto, head of intellectual property at McKenna & Cuneo LLP, in Washington. A copyright can shield some products that are valuable when copied, such as software code. Declaring your idea a trade secret might work for a time. A trade secret offers limited protection--say, from theft by employees. But once you release your invention on the open market, it's fair game. "A patent allows you to use your intellectual property as an asset you can sell or license," says Pelto. Which means that in most cases, there's no way to avoid the waiting game. Unless, perhaps, you've invented something to circumvent it.
For more on protecting your intellectual property, click Online Extras at frontier.businessweek.com