A Beach Boom In An Ancient Land...Unnerves The Environmentalists
Susan Postlewaite
Lying under one of the beach umbrellas that dot the long curve of Naam Bay on the Gulf of Aqaba, Sergio and Simonetta Martini of Milan are just the kind of visitors who make Egypt's tourism officials happy. They've never seen the Pyramids, the Sphinx, Nefertiti's tomb, or the temples of Karnak and Luxor, but for two years now they've spent their vacations at Sharm El Sheikh, an hour's flight from Cairo in the Sinai Peninsula.
Here, they can scuba dive, sail, and lie in the sun. "My life is on the beach. I don't go for sightseeing," says Sergio, a 37-year-old bank employee, his deep tan glistening as he relaxes with his wife and two friends on striped lounge chairs in front of their hotel. Don't you want to see the pyramids? "No. Maybe sometime."
The Martinis will spend about $2,000 for their two-week vacation in Egypt--no doubt a little less than it would cost if they visited the sites for which Egypt is famous. For the Tourism Ministry, this is fine. Egypt is desperate to increase the amount of foreign currency that tourism brings--about $4 billion in 1999--and officials have come to see that the growth in tourism isn't in temples, tombs, and mummies.
The boom in beach tourism began to surge a couple of years ago as developers rushed to take up the government's offer of incentives to build in deserted areas. They have been enticed by, among other things, beachfront land at $1 per square meter. The price is irresistible, and the building boom is in overdrive with Egyptian developers luring foreign hotel chains to build or manage the new properties. The number of hotel rooms is easily expected to increase from about 95,000 today to 150,000 in three years. Sharm El Sheikh has about 70 hotels now and 70 more coming.
The pace of building is so frenetic that Bahgat Badawy, director of marketing for the Egyptian Hotel Assn., is worried. He fears that some of the new hotels won't be professionally managed and that, with all the competition, no one will make a good profit.
Egypt chose to diversify its tourism in the 1980s to attract repeat visitors the way rivals Spain and Tunisia do. "A cultural destination is, generally speaking, one-shot tourism," explains Badawy. The effects are now being seen: Last year, Egypt drew 4.8 million tourists, its best year ever, but only about one-third of them went to visit the antiquities, says Tourist Authority Chairman Adel Abdel Aziz. He says Egypt will get 9 million tourists by 2005, and perhaps 20% of them will visit the sites.
With the new tourism comes a cultural strain that seems more pronounced here than elsewhere in this Muslim country. Leading hotel developer Samih Sawaris, who runs Orascom Hotel Holdings, describes the tensions that crackle when conservative Egyptian men end up at poolside with their veiled and black-robed wives, complaining (but ogling) as bikini-clad German and Italian women sun nearby. "I tell them, `If you don't like this lifestyle, you are not obliged to come,"' says Sawaris.
The tourists bring other pressures. Environmentalists worry that all the development threatens the pristine Red Sea coast. Others fret about infringing on the simple lives of the Bedouin and desert monks.
Environmentalists cite abuses such as dynamiting the coral reefs to build marinas. With 1,000 km of coast to patrol from Sinai to the Sudan, park rangers have their work cut out for them. In the Sinai, the European Union is spending $3 million a year to help expand the fledgling national park service and bring lawsuits against violators. About 30 cases are being heard.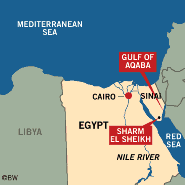 Meanwhile, over at the foot of Mt. Sinai, where scripture says Moses received the Ten Commandments, 25 Greek Orthodox monks at St. Catherine's Monastery are also trying to cope with the spillover of tourists from the coast. On a single day before Easter, more than 1,000 visitors arrived at the gates in a three-hour span to see the supposed site of the Burning Bush and the icons in the 600-year-old chapel. Father Justin, an American monk, explains: "We couldn't close the monastery to visitors because of the heritage that is preserved here, but neither can we become a full-time museum." To deal with the onslaught, says Father Justin, "we ask God for patience."