Symbol Technologies (SBL) is an old name with a new twist: This 1970s pioneer in bar-code laser scanning has evolved into a provider of wireless networking and information systems via--what else?--bar-code scanning.
Symbol's technology has found its way into cell phones and other handheld devices. These have scanners embedded in them to gain access to Web sites equipped with bar-code readers. The phones will scan bar codes in, say, magazine or newspaper ads and give the user access to the sites that market the products or services.
"Bar codes have become more pervasive. This has attracted a number of companies to cut deals with Symbol," says Tom Galvin, investment manager at Forstmann-Leff Associates, which has a 6.5% stake in Symbol. Now at 43 a share, the stock hit 68 in March--before the market's tumble.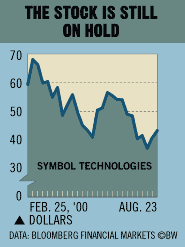 Motorola has formed a joint venture with Symbol, including an affiliate of major mobile-phone maker Ericsson, to promote the use of bar-code scanners in cell phones. Palm handheld computers with Symbol's scanning engines have been developed jointly with 3Com. And Intel has invested $100 million in Symbol, the largest maker of portable bar-code scanning gear, to co-develop wireless products. Symbol already has partnerships with IBM, Cisco, Qualcomm, and Lucent to co-develop products.
Galvin figures that the gravy from Symbol's deals in co-developing products will start showing up in its earnings in 2002, when he expects the company to earn $2 a share, up from 2001's estimated $1.35 and 2000's $1.05. Galvin thinks the stock could double in 12 to 18 months.