Will Drivers Pay A Maxi Price For A Revamped Mini?
BMW hopes to profit from a remnant of its ill-fated Rover deal
Christine Tierney
Anyone who remembers the Swinging Sixties in London will remember the Mini. The sporty, made-in-Britain four-seater was an essential feature of the mod scene, a favorite of the young and the trendy. The Sixties are long gone, but the Mini is still here--although just barely. Last year, dealers sold fewer than 12,000 Minis, which haven't had a major overhaul since 1959. Well, that's about to change. This September, car buffs will get their first glimpse of a totally revamped Mini, designed with enough retro dash to recall its glory days, and enough new-tech engine power to give it real oomph. And it's all courtesy of Bayerische Motoren Werke of Munich.
BMW backing the Mini? You might think the Bavarian carmaker would have had its fill of Britain. The company struggled for six years to turn around the troubled Rover. Then, Chairman Joachim Milberg pulled the plug last March, recouping most of BMW's investment by selling the British company's Land Rover operation to Ford Motor Co. for $2.7 billion. But Milberg ended up giving away Rover's other car business to an investment group, the Phoenix Consortium. Even he had to admit that the Rover brand had far less appeal than BMW thought when it bought it in 1994. He also said the pound's 25% rise against the German mark since then had raised costs to prohibitive levels.
Despite that sobering experience, Milberg is back for more with the one piece of Rover that BMW kept--the Mini. Milberg is counting on the car's cult status to attract a new generation to the BMW fold, just as the revamped Beetle gave a boost to Volkswagen in the U.S. One of the first small cars to have front-wheel drive, the low-slung Mini is famous for its boxy, flat-topped look and its slick cornering. "It's also a premium car--a premium car in the small-car market," Milberg says. That suggests BMW expects to slap a premium price on the windshield.
Milberg says he has taken the hard Rover lessons to heart. He's not relying on high-cost British suppliers. About 60% of the new Mini's components will be made outside Britain, compared with the old Mini's 95% local content. Its engines, for example, will come from a BMW venture in Brazil. And the new model is about 18 inches longer--large enough to get into the mainstream small-car market. Production will start in an Oxford suburb next year. The cars will be marketed mostly in Europe but also in the U.S. and Japan. BMW is counting on total sales of 100,000 to 120,000 by 2003.
If BMW misses that lofty goal, the Mini could become a second British misadventure. "They had such a hard time with Rover. They should have quit the whole British business," says Jurgen Pieper, an analyst at Frankfurt brokerage B. Metzler & Co. Bank. He estimates BMW will spend as much as $1.2 billion in the first five years of the Mini project without turning a profit.
LITTLE LOYALTY. Indeed, investors wonder if Germany's luxury carmakers have what it takes to make it in small cars. When DaimlerChrysler got into that business, it said its $14,400 A-Class car and $8,100 Smart two-seater would have a certain cachet that would shield them from the cutthroat price competition. That didn't happen. Mercedes has had to cut Smart prices and still has not met its original targets. "BMW will have to be extremely careful on the Mini's pricing, and not think people are prepared to pay a bigger premium than they are," says D. Garel Rhys, professor of motor industry economics at Cardiff University in Wales. BMW is expected to price its basic Mini at around $13,800--some $4,000 more than the old model.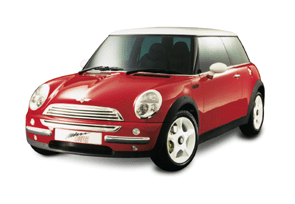 BMW certainly has the talent and cash to rescue the Mini. Thanks to strong demand for its luxury models, its profits jumped 67% in the first half of the year, to $290 million. But the more affordable BMW 3-series has run into fierce competition from Mercedes' sporty new C-Class. To plug the gap between the Mini and the 3-series, the auto maker plans to launch a rear-wheel drive compact dubbed the 2-series in 2004. At the high end, BMW will redo the 7-series next year, develop two more sports utility vehicles, similar to its X5, and start building Rolls-Royce limousines in Britain in 2003.
With the Mini, BMW is hoping to win over doubters by rolling out the jazzy versions first--high-performance Mini Coopers with supercharged 1.6 liter engines and extremely responsive steering. "They know all eyes are on them. It's got to be a success from the beginning," says Merrill Lynch & Co. analyst Stephen Reitman. If it does meet Milberg's expectations, the redesigned Mini could turn the Rover debacle into an 11th-hour coup.