U.S.: All Quiet At The Fed, But The Trade Deficit Looms
The growing current-account imbalance bodes ill for 2001
by
One has to wonder how members of the Federal Reserve policy committee filled the hours of their Aug. 22 meeting. Did they debate the merits of trading New York Knicks star Patrick Ewing? Or perhaps they started a pool to bet on the winner of Survivor.
They certainly didn't need much time to debate the problems the economy is facing right now. Immediate woes are as rare as appetizing recipes for rat. That's why the Fed's decision to hold short-term interest rates steady for the second meeting in a row came as no surprise to the financial markets.
As for the future, the Fed did as expected and reiterated its position that the risks remain weighted toward inflationary pressures. The Fed likely feels that it must leave the fear of a future rate hike on the table, so that Wall Street exuberance doesn't add excessively to demand growth.
Even so, an October move seems unlikely as well, unless the economic data, especially on the job front, take a radical turn toward strength. The Fed's statement was more optimistic than the one in June, when they considered signs of an economic slowdown to be "tentative and preliminary." Now, the Fed says that recent data show that growth in overall demand "is moderating toward a pace closer to the rate of growth of the economy's potential to produce."
It also said that "more rapid advances in productivity have been raising that potential growth rate." That's keeping a damper on unit labor costs, despite extremely tight labor markets. Unit costs are inflation's fuel, and as long as they're not growing, inflation will have a hard time taking off.
Moreover, policymakers can read the calendar as easily as anyone else, and the Oct. 3 meeting will come right before the Presidential election. The Fed would like to appear apolitical and would not make a move at that time unless it feels that a hike is urgently needed.
STILL, THE FED acts preemptively, and it knows any problems in 2001 will be sown in 2000. Any coming interest-rate decisions will be based on the economy's perceived ability to meet strong demand, especially for labor, without fueling inflation. But in the coming year, a new actor is almost certain to play a bigger role in the Fed's analysis: foreign trade (charts).
The deterioration in the U.S. trade position in recent years has been a plus in the Fed's efforts to control inflation, but it could turn into a minus next year. Imports have been a key safety valve that diverted some of the excessively strong growth in domestic demand to foreign producers. At the same time, the 1998-99 global slowdown following the Asian crisis took some pressure off U.S. production capacity. Plus, the relative attractiveness of U.S. investments have kept foreign capital flowing in, and the resulting strength in the dollar has been anti-inflationary.
However, the mounting U.S. debt to foreigners could cause trouble next year, especially if growth prospects shift away from the U.S. and toward Europe and Japan. Amid a swell of U.S. IOUs, this could touch off a weakening in the dollar. As Fed Chairman Alan Greenspan said earlier this year, "Growing net imports and a widening current-account deficit require ever-larger portfolio and direct foreign investments in the U.S., an outcome that cannot continue without limit."
HOW BAD IS THE TRADE DEFICIT? Consider that in 1992, the U.S. trade gap totaled $36 billion for the entire year. Now, it's up to $30 billion per month. Worse, there is little indication that the deficit has peaked, although signs are at least a bit more optimistic on that front than they have been in many years.
The June gap widened slightly to $30.6 billion, from $30.3 billion in May, despite a 4.6% surge in exports from May, to $90.6 billion, which was the largest monthly increase in four years. Still, the export gain was no match for the month's 3.7% jump in imports, to $121.2 billion.
Exports, though, are helping U.S. manufacturers who may be seeing some softening in domestic demand. The month's advance in exports was broad although capital goods accounted for more than half of the increase. In particular, overseas demand for high-tech equipment has been increasingly robust.
That uptrend should continue into 2001. As the rest of the world adopts New Economy technologies, demand for computers, peripherals, telecommunications equipment, and semiconductors will grow far faster than other goods and services. Over the past year, these high-tech exports have soared 31.7%, while other foreign shipments are up a strong, but smaller 12.7%. Tech shipments account for about 14% of all exports and have contributed 26% of the export growth over the past year, before adjusting for inflation.
DON'T EXPECT HIGH TECH to shrink the trade gap by much, though. The U.S. is a huge importer of similar goods as well. In particular, the U.S. imports far more computer peripherals than it exports. The good news is that the deficit for high-tech goods has stabilized this year, averaging $2.2 billion in the first half.
It's not just high-tech gadgets, of course. A slew of foreign-made goods continues to arrive in the U.S. by both sea and air. That onslaught is why any outlook for the trade deficit must first come to grips with a simple fact of mathematics. Because imports are a third greater than exports, exports must grow 33% faster than imports just to stop the deficit from widening further. That's an extremely difficult hurdle to clear when nearly $3 out of every $10 spent on goods in the U.S. goes to buy an import.
Exports are making progress, especially when adjusted for prices. Keep in mind that higher oil prices have boosted the value of imports this year. After price adjustment, imports of goods are growing 14.4% from a year ago, while goods exports are up 17.8%. Still, even at those rates, the real merchandise deficit will not stop deteriorating.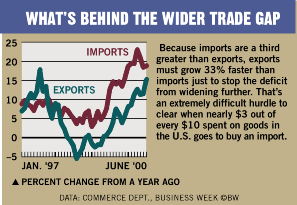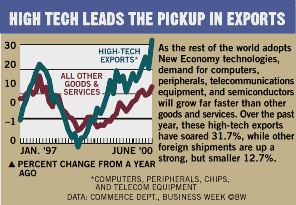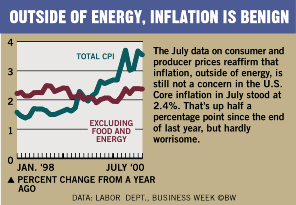 Moreover, any resurgence in domestic demand will boost import growth. The July data on housing, retail sales, and industrial production all point to an economy that is slowing but still on the boil. The July data on consumer and producer prices, though, reaffirm that inflation, outside of energy, is still not a concern (chart). Core inflation in July stood at 2.4%. That's up half a percentage point since the end of last year, but hardly worrisome.
The Fed wants to keep it that way in 2001. Imports clearly will help, since they add to the supply side of the Fed's balancing act between demand and production. But the deterioration in the trade deficit could trigger a change in foreign-investor sentiment and bring down the dollar. Those two factors are why the Fed will keep an eye on the trade deficit. Paradoxically, the foreign sector will remain both a balm and a bane in the outlook for inflation and monetary policy.
Before it's here, it's on the Bloomberg Terminal.
LEARN MORE