Loral May Soar But Not Just Yet
By
Loral Space & Communications (LOR), the world's third-largest maker of satellites, sure hasn't skyrocketed. It's trading at 7, down from more than 16 in February. But Chairman Bernard Schwartz says core operations are doing fine and that the stock's dismal showing is due to the Street's misperception. "We're not in trouble," asserts Schwartz, who points out that Loral will have a $400 million cash stash by yearend--even after funding three satellites and investing $50 million in its CyberStar unit, a high-speed broadband data communications system. It is Loral's 40%-owned Globalstar that worries investors. This satellite-based phone provider has rolled out a global digital system that cost $3.8 billion.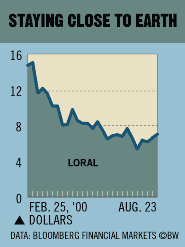 "Shareholders are worried about Globalstar being unable to meet its interest payments," says Joseph Campbell of Lehman Brothers, who rates Loral a buy. He thinks Loral won't put much more support behind Globalstar. Schwartz insists he won't let Globalstar drag Loral down.
Schwartz is confident Globalstar's partners, including Vodafone AirTouch, France Telecom, and Alcatel, will come up with the cash. He expects Globalstar should break even by yearend 2001. Once Globalstar's funding and operational issues are resolved, the market will give Loral a higher valuation, says Campbell. But even if Globalstar were valued at zero, he says, Loral is still worth at least 12 a share, based on the value of its assets. Loral is "compelling," regardless of the Globalstar outcome, says Campbell.