Into The 21st Century...With Mixed Feelings
Justin Keay
Until recently, arriving in Lisbon for the first time often produced an unwelcome shock. Shacks and tenements next to the airport looked as if they might someday spread onto the runways if left unchecked. A walk through the city was like travel in a time machine--backward. Lisbon had its attractions, certainly: the cobbled streets of the old Alfama district, the Moorish influence in facades glimpsed from an open tram car, a glass of port in a tiny, dark bar filled with marble, a coffee in a fin-de-siecle cafe on the Praca Dom Pedro. But beneath the charm you found a city hobbling shabbily into an age it simply couldn't keep up with. Much of the old imperial glory seemed almost beyond repair. Ramshackle would have been a pretty good word for Portugal's once-grand capital.
No longer. In Alta de Lisboa, which used to be a slum of overcrowded tenements tumbling into the streets, 17,000 new homes are going up. In the Alcantara district, a section of the old city, factories are slated for demolition to make room for more houses and bright new public places. The old market near the Cais do Sodre railroad station is being regenerated, too. The Chaido, the old shopping district, devastated by fire in 1988, reopened not long ago and will be completely restored by 2001. And that squalor near the airport? It's now replaced by upscale apartments and a golf course. Eventually, the airport itself is to be redeveloped and a new facility opened some 50 kilometers outside the city.
Lisbon is renewing itself--at last. Twenty-six years after the Revolution of Flowers opened Portugal to democracy and 14 years after the country entered the European Union, the capital is joining the ranks of great European cities. Or should we make that "rejoining"? Many residents hope that Lisbon will soon recapture some of the splendor of the 16th century when New World wealth made it Europe's richest city. But even for those with more modest ambitions, the impulse is to look back: People here are coming to value old customs and ways of life as much as the city's grand architecture. Lisbon is embracing change, fair to say, but it wants to find the future by revitalizing its past, not burying it. It's a characteristic dilemma of the new, post-cold-war era: How, people here ask, can we protect our roots and traditions amid rapid globalization and technological change?
Distinctiveness, and "taking the time to live," as the French say, often seem these days like luxuries ill-suited to the times. Next to the Teatro Nacional on the Rossio, Lisbon's main square, there's an old, dimly lit bar that was long one of the city's busiest watering holes. But in my peregrinations around town, I've watched as the clientele has dwindled: It's now down to old men who chat over vinho verde or white port while the busy life of the capital goes on outside. "There, that's where everybody likes to go now," one remaining regular said the other day, nodding at a bustling McDonald's up the street. "American food, American drink--that's the future."
SPANIARDS AND EARTHQUAKE. Lisbon was always isolated, a bit out of the loop as it looked out into the Atlantic and kept its back to Europe. But its decline from the grandeur of Vasco da Gama's day was slow and fitful. Under Spanish rule from 1581 to 1640, many of the city's most talented people left for the New World. An earthquake in 1755 devastated much of the city, though by then Portugal had already long passed its peak as an imperial power. Closer to our time, almost half a century of dictatorship--first under Antonio Salazar, then Marcello Caetano--made the country almost grotesquely static. Nothing was allowed to change, except by way of decay. After the '74 revolution, an unyielding system of rent control took over where the dictators left off. Coupled with the high inflation of the 1970s, it meant that few landlords had any money to spare for renovations. So Lisbon became a museum piece: elegant here, tumbledown there--with more there than here as the decades went by.
The contrast today could hardly be more dramatic. Business confidence has been buoyed by low inflation throughout the 1990s, economic growth above 3% for the past five years, and membership in the euro zone. The mood of optimism is almost palpable. At cafes along the Baixa in the city center, young professionals talk excitedly into their mobile phones, discussing everything from the resurgent stock market to an impending Caribbean vacation. Nightlife in Lisbon used to mean traditional fado--a sort of flamenco-opera performed in small bars, with plenty of somber chords. These days, you're likely to begin with dinner at a fashionable restaurant along the waterfront, overlooking Ponte 25 de Abril, Lisbon's equivalent of San Francisco's Golden Gate Bridge, and move on to some frenetic dancing at one of the city's trendy new clubs. "There's a new confidence here, especially amongst the young," says Eric van Leuven, head of real estate brokerage Healey & Baker, and a 20-year resident. "People are more outward-looking and less traditionally minded. The change is enormous."
The property market took off after an Expo in Lisbon two years ago. Commercial and residential prices are now at their highest levels in years. Office vacancies--after many years of oversupply--are running at just 2%. Developments south of the Tagus, formerly an area of lackluster suburbs, are sprouting like flowers; the district is expected to absorb a million new inhabitants over the next seven years--nearly doubling the city's population. And shopping malls are opening all over the city. "We were determined not to lose momentum," says Leonel de Sousa Fadigas, president of Ambelis, a public-private company that finds developers for urban renewal sites. "There are a lot of exciting things happening."
Notable among these is the Lisbon 2000 Program, spearheaded by Mayor Joao Soares. It aims to target public and private funds at sites across the city, including in the Alfama and the Chiado. Also ongoing are further extensions of the metro into the city's ancient heart, notably from Cais de Sodre through Praca do Comercio to Santa Apolonia Station, as well as improvements to the city's other major station, Rossio, which stands just off the main square.
AFRICAN IMMIGRANTS. It's a real estate agent's dream, all right. But Lisbon's rush into the 21st century may not be bump free. After years of growth well above the EU average, Portugal is showing signs of overheating. The balance of payments deficit reached 7% of gross domestic product last year; bank lending rose by more than a quarter. While the government has raised rates, it may have to put the brakes on harder. "Everyone is incredibly bullish, but when I look at the pace of development, I feel it just can't go on," says George Craven, director of property company Donaldson's. "This talk of a million new inhabitants in south Lisbon: Where are they coming from?"
From just about everywhere Portugal once maintained a colonial presence, it seems: Cape Verde, Angola, Mozambique, Guinea-Bissau. Portugal has managed this influx gracefully enough, with little overt discrimination. But there are concerns here that the rising number of African immigrants, in particular, are straining the economy and Lisbon's already overstretched infrastructure.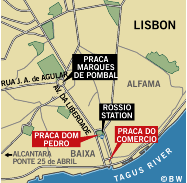 For some people, a slower pace of change would be welcome. Polls in this Catholic country show that many older people in particular feel that tradition and the family have been ignored in the headlong rush for prosperity. "People look at their children and grandchildren and ask, `Where are those values that meant so much when we were young?"' says Diogo Alarco, a senior official at ICEP, the government agency that coordinates investment, trade, and tourism. "I feel it myself and realize that we are going to have to fight for them now." That speaks for many here, as Lisbon evolves into a dynamic European city. And there are doubts from unlikely quarters. "The Lisbon I fell in love with 20 years ago has almost gone," says real estate broker van Leuven in his office on Avenida de Liberdade, the main thoroughfare.
As developers pocket their profits, they should perhaps be mindful that Lisbon's great boom, in the early 16th century, was followed by more than 200 years of decline. Nobody is suggesting that Portugal is destined to crash as it did 450 years ago, when reckless spending, inflation, and geographic overreach bankrupted the country. However, there is something in today's heady confidence and the rapid, sometimes poorly conceived overexpansion that echoes those times. The trouble is, nobody wants to recognize the parallels.