Canada: Will The Slowdown Satisfy Policymakers?
By
After its robust growth in the first half of 2000, the Canadian economy appears to be slowing, and inflation seems well-contained. However, in a surprisingly hawkish Aug. 16 policy report, the Bank of Canada isn't convinced that it can relax its guard.
The Bank now expects growth this year between 4.25% to 4.75%, up from the 4% to 4.5% range in its May policy report. In the most recent three quarters, the economy grew at an annual rate of 5.5%. That means the bank's projection implies a slowdown for the second quarter and beyond.
However, the BOC made it clear that it expects growth to remain strong enough to push against the economy's capacity limits, and that it would remain vigilant for inflationary pressures. The BOC projects core inflation--excluding energy and food--to rise only slightly, from 1.5% in June to 2% next year. The BOC's target range for inflation is 1% to 3%. The bank appears unconvinced that the U.S. economy will slow enough to ease price pressures in the U.S.'s biggest trading partner.
Exports, consumer spending, and capital outlays powered the first half's stronger-than-expected growth. Solid U.S. demand is fueling exports, pushing Canada's June trade surplus to a record. Household spending remains firm, given the 0.8% jump in June retail sales. And businesses continue to invest heavily in high-tech equipment.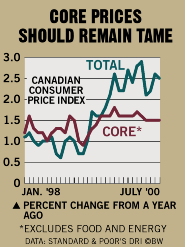 Indeed, the BOC is intensely studying the degree to which such investments have lifted productivity and expanded Canada's ability to grow faster than it has in the past without sparking inflation. The bank recently surveyed 140 companies, and the results suggest that investment in new technologies and a wave of corporate restructurings in the 1990s are bearing fruit. Further studies aimed at pinning down the economy's new speed limit are expected to be released in November.
Still, whatever room for additional growth there may be appears to be rapidly shrinking. If the Federal Reserve hikes U.S. rates again later this year, look for Canada to follow suit.