As Mass Tourism Heats Up...Locals Feel The Lure Of Graft
Carol Livingston
Our guide says: "I call this the disco road," as the car bounces and jounces across the holes on Cambodia's Route 6. The rutted highway winds 300 kilometers from the capital, Phnom Penh, through electric-green rice paddies and impoverished villages to the Angkor archeological complex in Cambodia's northwestern Siem Reap province.
Route 6 may be a mess, but tourism to Angkor and its 1,000-year-old temples is booming after a 30-year hiatus that ended in 1998, when the last of the murderous Khmer Rouge rebels gave up and a degree of political stability returned.
For now, Siem Reap is still one of the unspoiled wonders of Asia. Travelers landing at the airport can snap pictures of water buffalo grazing only yards from the runway apron. Containing both Buddhist and Hindu architecture, Angkor is a religious destination as well as an archeological wonderland. Mysterious stone faces and carvings of fisherfolk, kings, gods, and courtesans stare down at visitors, while brilliantly colored butterflies and exotic birds swoop by. The chanting of orange-robed monks with shaven heads often fills the air. Scattered across a Manhattan- size area, the ruins are in part surrounded by jungle, while those in the midst of villages are festooned with foil, flags, and incense sticks.
This idyll won't last: The number of tourists arriving in Cambodia has doubled in the past two years and should rise an additional 50% this year. More than 1 million visitors to the temples alone are projected for 2005. At least 11 new hotels are under construction.
"Last year, there were no tourists in the low season [May to October]. This year, August looks the same as the high season," says Sokun Men, who runs Goldenways tour agency, which supplies tourists with cars, guides, and hotel accommodations. A key factor is the "open skies" policy declared last year by Prime Minister Hun Sen. In the past, foreign tourists had to fly to Siem Reap via Phnom Penh, usually staying overnight in the capital. Now, direct flights to Siem Reap come each day from Thailand and Vietnam. An increase in intra-Asian travel brings many visitors from southern China and Japan. More flights are planned this fall from Hong Kong, Malaysia, and Singapore.
STOLEN BUDDHAS. There's much to see. Angkor Wat (wat means "temple") is the world's largest religious structure, and 70 other temples are listed as World Monuments by the U.N. But this is just a fraction of the historic treasures. "Two students of mine updated the old inventory of temples for their thesis work. In two of the province's six districts alone, they realized there were over 600 ruins," says Ang Choulean, director of a government preservationist agency.
Theft is a big problem in a country as poor as Cambodia. Although guards at the ruins have been increased, antiquities are still regularly smuggled out for sale in Bangkok or overseas. At one temple, a teacher and several local women complained that three Buddhas had been stolen. "This never happened before," Choulean laments. "But now there are many people coming here from all over Cambodia, so there is no homogeneity. The natural social controls have been lost."
So who benefits from the tourist boom? Entrepreneurs with pull do best. Sokimex Co., an oil company that has connections with the Prime Minister's office, was granted the right to run the ticket concession, for example. The military brass also does well, with many generals pursuing riches as hotel and restaurant investors.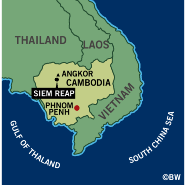 Property grabs by the powerful are common. "Before, I lived inside the wall," says Srei Sopheap, pointing to a construction barricade behind her thatched shack. There, she had paid the former owner $150 for a plot just big enough for a small house, but when that owner lost title to a better-connected businessperson, Sopheap lost her land, title, and investment. "I heard it's to be a hotel," says Chom Pon, Sopheap's neighbor, who had also lost her land and money and hopes for a construction job at the hotel at 75 cents a day.
Corruption is prevalent at all levels. Even the white-haired widows demurely pressing their palms together on the stone floors of some temples are said to pay off army or police officers for the right to beg. The countryside may be healing from war, but healing isn't always a pretty sight.