A Trucker Finds A Niche In Cyberspace
Yamato is No. 1 in delivering goods ordered online and off
Irene M. Kunii
Hiroshi Sakai, a budding Netrepreneur, was about to launch Japan's first major Web site for discount wine sales. He quickly lined up a business partner, an established wholesaler with storage and office facilities to spare. Sakai, however, needed to fit one more piece into place: transport, the lifeblood of any e-commerce business. "Stories abound of packages arriving late or damaged," says Sakai, 29. So did he choose a new company like his own, especially geared to Internet businesses? Hardly. In July he struck a deal with Yamato Transport Co., an outfit that has been around since 1919. "I found that only Yamato met my requirements," he says. "I can trust them with my business."
Thousands of other Japanese dot-coms agree. With the Net taking off in Japan, Yamato--much like United Parcel Service Inc. of the U.S.--has emerged as a surprise winner in the Net race. With 32,000 trucks that ply every major road in the country, it's very much an old-line company. But its managers, who had been using computerized delivery systems since the early '70s, saw the potential of the Net market and joined the revolution early on.
Better known as Kuroneko, or Black Cat, because of its distinctive logo, Yamato already is No. 1 in Japan's delivery market with a 36% share. It handled 828 million parcels in fiscal 1999. And while the market for delivering goods ordered online is still in its infancy--about a fifth of Japan's total 2.3 billion parcels delivered each year--Yamato has already positioned itself to maintain its 30% lead in that market. When e-commerce sales first showed signs of coming to life in 1998, Yamato staked out its own real estate. It launched a Web mall that hosts 4,300 cyber-merchants. Yamato provides them with a virtual storefront and online parcel tracking for free, but charges them for delivery and collection of payment for goods it ships to consumers. "By tying up with us, a startup can literally go into business the next day," says Ryutaro Narui, the company's information-technology strategist.
At the same time, Yamato is targeting the even more lucrative business-to-business sector. As companies increasingly move business onto the Net, Yamato plans to become a crucial part of their supply chains. Four years ago, it began offering storage and inventory management, packing, delivery, and customer services to established corporations in Japan. In May, Yamato launched a new subsidiary, Yamato Logistics Produce, to develop B2B services linking companies over the Net. "We're replacing the middlemen who used to control distribution in Japan," says Narui.
Already, Yamato provides logistics for Honda Motor Co. and some 1,500 other companies. By the end of the year, its client list is expected to reach 2,000, more than double the 900 it served last year. While B2B logistics is still a fledgling business for Yamato, generating only about $30 million in revenue in fiscal 1999 out of Yamato's total of $7.5 billion, analysts predict that it will become a major revenue generator in the future. "Yamato's potential is huge," says Naoko Matsumoto, industry analyst at Tokyo's Nikko Salomon Smith Barney. "Not only is it ahead in e-commerce, but it's the only delivery firm taking aim at the business-to-business sector." She predicts that Yamato, along with several major wholesalers and retailers, will dominate distribution in Japan's New Economy. Analysts forecast that if Yamato maintains its edge in logistics and e-commerce services, it could double sales in the next few years.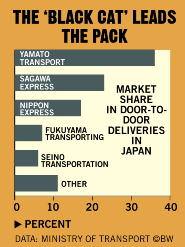 WIDER MARKET. Certainly, much will depend on whether e-commerce takes off in Japan. So far, the signs look positive. Japanese consumers spent $1.8 billion online last year. By 2003, the total is expected to surge to $30 billion, according to government estimates. The figures are even more bullish for business-to-business commerce: from $80 billion last year to $700 billion by 2003.
Yamato next hopes to move into the greater-Asia market. Over the past year, it has formed two delivery alliances in Taiwan, and it is eyeing other parts of Asia. If Yamato can keep delivering the way it has been, there's a good chance it could emerge as the top trucker not just in Japan but in Asia's e-market as well.
Before it's here, it's on the Bloomberg Terminal.
LEARN MORE