Young Argentinians Fly The Beloved Country
A 25% jobless rate is driving them away
Toby Muse
It's a cold winter morning in Buenos Aires, and the line outside the Italian consulate has not budged in half an hour. Gabriela Capel rubs her hands together to keep warm as she explains why she has decided to leave her native country. "I love Argentina, but there's no hope for me here," says the 27-year-old. Since graduating with a degree in administration two years ago, she has been unable to land a job. So rather than be counted among Argentina's 2.1 million unemployed, Capel is heading to Italy, where she hopes to find work as a secretary.
It's not quite a brain drain--yet. But Argentina is definitely at risk of losing some of its best and brightest. The economy is limping out of a 15-month recession, yet unemployment continues to climb. According to the latest official data, the jobless rate rose to 15.4% in May--a three-year high. The young have been particularly hard hit, with some 25% unable to find work. Many, like Gabriela, are college graduates. Still, Argentines were shocked to learn, via a recent Gallup poll, that a third of those between 18 and 24 wish to go abroad. The national soul-searching that has ensued reflects Argentina's new reality: The nation, itself built by immigrants, can no longer offer its young a future.
EXODUS. That's a depressing scenario--one that could have grave implications for Argentina's economy down the line. "In 10 years, we are going to feel the effect of these young people who left," says Cristina Mejias, director of the local headhunting agency CM. Key posts in management, accounting, law, and technology will go unfilled or be staffed by underqualified people. But it won't be the first time the country faces a shortage of skilled personnel: Many educated Argentines fled the country to escape the military dictatorship that ended in 1983, never to return.
There are no official figures to support the notion that another exodus is now under way. But anecdotal evidence abounds. Francesco Genuardi, the head of the Italian Consulate in Buenos Aires, says the number of Italian passports issued in the first six months of this year, mainly to descendants of Italian immigrants, is 10% higher than in the same period last year. "People think we're a job agency," complains Genuardi. According to local press reports, the Spanish, Canadian, and U.S. consulates have also registered a sharp increase in applications.
The long lines outside the foreign consulates are a blow to the eight-month-old government of Fernando de la Rua. Expectations were high that the new President would revive a moribund economy. Instead, he has administered a toxic dose of austerity, complete with tax increases for businesses and pay cuts for public workers.
The measures have helped rein in a ballooning fiscal deficit, a key condition for the $7.4 billion standby loan the International Monetary Fund granted Argentina in February. But the long-awaited economic recovery has been delayed as a result. The government is now forecasting growth of just 3% this year, while private analysts predict it will barely top 2.5%.
To make matters worse, the government's heralded labor reform appears to be aggravating unemployment. Approved in May, the measures make it less costly for companies to shed workers. "More people are getting fired than hired," says Glauco Marquez, an adviser to the Argentine Industrial Union, a trade organization comprising some of the country's largest companies. If this keeps up, unemployment will hit 16% by yearend, warns the Union.
CAN'T WAIT. To provide some temporary relief, De la Rua has unveiled a new $20 billion public works program, to be funded through a combination of public and private money. That's good news for the battered construction industry, which, according to Ricardo Bals, president of the Argentine Construction Chamber, has lost some 60,000 jobs this year alone.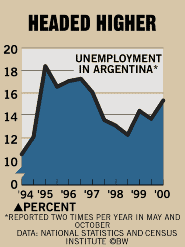 Such initiatives are no substitute for robust economic growth, caution some experts. Ernesto Kritz, special adviser to the Argentine Labor Ministry, figures that gross domestic product must expand by at least 5.5% a year through 2005 just to cut unemployment to 9%. But young Argentines cannot afford to wait that long. For Capel, there is a sad irony in the fact that her great-grandparents emigrated to Argentina to escape the poverty of their native Southern Italy. Now, nearly a century later, it is Italy that beckons as the land of opportunity. "It's our history in reverse," she says.
Before it's here, it's on the Bloomberg Terminal.
LEARN MORE