Suddenly, A Chill Hits Japan's Banks
A string of bankruptcies has shown how fragile the recovery is
Ken Belson and Irene M. Kunii
This was to be the year of reform and revival for the Japanese economy and its beleaguered banking industry. At the end of March, Japanese banks reported profits for the first time in three years. And the economy began to slowly expand again.
But the outlook wasn't as rosy as it seemed. Profits were boosted by unrealized gains from high-flying stocks the banks owned, not by healthier loan portfolios. And investors--domestic and foreign--are increasingly aware that the banks face few attractive options.
One need only look at the Nikkei to see the disenchantment. From Apr. 12, when it hit a year-to-date high of 20,833.21, to July 31, when it sank to its most recent bottom of 15,727.49, the heavily bank-stock-weighted Nikkei index has been on an almost uninterrupted downward path. Although it jumped up slightly on Aug. 1 and Aug. 2, it still is down 20.4% in the fiscal year started Apr. 1. And in August, when many experienced market hands are on vacation and trading volume is light, there is a higher risk that a further sell-off could shake the financial system.
The Nikkei's decline is a double whammy for the banks. It is decimating their own capitalizations and creaming the value of stocks in their portfolios. Unless the market recovers--which few analysts predict--banks will have to show those market losses on their balance sheets next spring, when for the first time they'll be required to reflect the current market value of their holdings. They could voluntarily disclose more about their financial condition this fall along with midyear earnings. That's unlikely, though, since the disclosure of a substantial decline could place lenders in violation of international capital requirements, forcing further retrenchment.
So is Japan facing a financial crisis similar to the one in 1998, which set off a full-fledged investor panic? Probably not. But the current liquidity squeeze could worsen. Lending has already shriveled, and a recent string of bankruptcies won't make the loan business any more attractive. Take the July 12 failure of Sogo, a big department-store chain with $17.2 billion in liabilities. It brought calls for a government bailout, which were quickly squelched. But that the topic was broached for something as prosaic as a retailer suggests how much deeper the problems of lenders really are. And there are more bankruptcies to come: The market is betting that the next victims will be construction conglomerates Hazama Corp. and Kumagai Gumi Co., which hold junk ratings and are trading near record lows.
While banks have written off $460 billion in loans since 1993, questionable loans are still on the rise and stood at $280 billion in March. Further failures will damage bank balance sheets, but at least it will eliminate some corporate deadwood. "It's like Tokyo in an earthquake: When it's going on, you wait for the shaking to stop and see who's left standing," says Ian J. Macdonald, a vice-president at Rowe Price-Fleming International.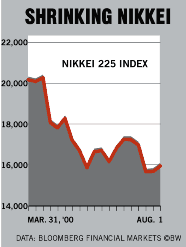 SCANDAL. Political turmoil is adding to the banks' woes. One of Japan's top financial cops, Kimitaka Kuze, resigned on July 30 after admitting he received millions of dollars from a bank before he became its regulator. Even worse, Prime Minister Yoshiro Mori knew about the payments and saw no conflict of interest. Mori recently appointed an 81-year-old backbencher with little interest in reform to replace Kuze. The scandal will help party elders looking to oust Mori, perhaps as early as September. Leading candidates to replace him include Foreign Minister Yohei Kono and former Prime Minister Ryutaro Hashimoto.
For banks, there seems to be no quick fix. They can try to raise cash by selling stock in a depressed market--hardly an attractive choice--or plead for government aid. But with Tokyo running deficits equal to 10% of gross domestic product and Mori's opponents ready to pounce on a bailout, a rescue seems unlikely.
In the end, corporate bankruptcies and bank collapses may be the only way for the system to cleanse itself. So investors had better brace themselves for some frightening dips ahead.
Before it's here, it's on the Bloomberg Terminal.
LEARN MORE