Shares of Seitel (SEI), which have been in their own bear market this year, have suddenly sprung to life. In April, Seitel was at 6, down from 18 late last year, but in July this provider of seismic data and geophysical gear used in oil exploration shot up. By Aug. 2, it had doubled, to 12 9/16.
One reason: Demand for seismic data has spurted, as the search for petroleum intensifies. Seitel estimates its second-quarter seismic-related sales alone jumped to a record $33 million--up 48% from the previous quarter. Higher gas prices have upped cash flow, and "Seitel's clients are reinvesting to replace and increase reserves," says Jeff Freedman of Prudential Securities, who rates Seitel a "strong buy."
There is another side to the Seitel story: buyout talk. One pro who zeroes in on underpriced oil-and-gas stocks says that several companies in oil-field service--Schlumberger, Halliburton, and Baker Hughes--have made overtures to Seitel. The highest price feeler is said to be close to 25 a share.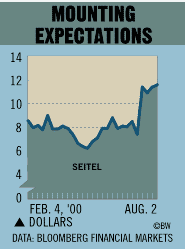 Freedman, who likes Seitel purely on its improving fundamentals, says "it isn't far-fetched for a major player to want to buy Seitel because of its dominant position in seismic exploration." Seitel owns the largest seismic data library in North America and will benefit, he says, from the lack of seismic capital investment in the past two years. Freedman says his 2000 earnings estimate of 90 cents a share and $1.10 for 2001 may turn out to be "conservative" because of the heated demand for seismic data--and the increasing value of its oil-and-gas reserve base. Seitel has just sold 3% of its reserves for $16.9 million, putting the worth of the remaining reserves at $250 million, figures one analyst. Seitel spokesman Russ Hoffman declined comment.
Before it's here, it's on the Bloomberg Terminal.
LEARN MORE