Ogden Could Get Switched On
By
The new stripped-down Ogden (OG) is winning adherents. When Ogden announced in September that it was de-conglomerating to transform itself into a pure-play energy company, its stock took a dive--from 27 to 8 in barely two months. It has since rallied a bit, closing at 12 1/4 on Aug. 2. Some savvy investors think it may hit 20 this year. One of them is Jan Loeb of Wasserstein Perella, who rates the stock a "strong buy." He values the new Ogden at 17 times his 2001 earnings estimate of $1.20 a share. For 2000, he expects $1.05.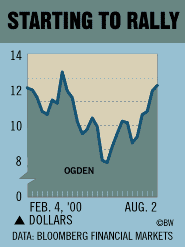 At Bear Stearns, Gary Schneider notes that Ogden is attracting such investors as Greenway Partners, with 13.8%, and Delafield Asset Management, with less than 5%. "Greenway isn't known to be a passive investor: It has a history of shaking up companies that do not perform," says Schneider. Ogden's new management, led by CEO Scott Mackin, has also been buying. Ogden's new focus on independent power projects, says Schneider, has the potential to propel the stock upward. For years, he notes, Ogden has been developing independent power projects such as waste-to-energy facilities.
Before it's here, it's on the Bloomberg Terminal.
LEARN MORE