Death Of The Video Store?
Video on demand is a couch potato's dream come true
Charles H. Haddad
Snug in bed, remote control firmly in hand, Atlantan Michael Burke is Blockbuster's worst nightmare. He and his family rent three to four movies a week, yet they haven't been to a video store in two years. There's no need. The Burkes rent movies directly from their cable operator, Charter Communications Inc. From bed, Burke can stop, pause, and rewind movies as if they were on tape in a VCR. "Who needs a video store anymore?" asks Burke, a 42-year-old senior product manager at PerkinElmer Inc.
Cable-TV operators are betting billions of dollars that Burke is right. They're starting to roll out a service called "video on demand," which uses the industry's new high-speed digital networks to provide old and new movies anytime customers want them. So far, only a handful of cities, including Tampa, Honolulu, Duluth, Ga., and Austin, Tex., have cable systems offering video on demand. But the market is about to take off. Scientific-Atlanta Inc., which builds video-on-demand networks for cable operators, has been hired to launch the technology this year in 40 markets totaling more than 25 million cable subscribers. "Video on demand is real, and it is coming," vows James F. McDonald, Scientific-Atlanta's president and CEO.
The betting is that the business will quickly move into fast-forward. Yankee Group, the research firm, predicts that by 2003, there will be nearly 8 million people subscribing to video on demand, generating more than $1 billion for cable operators. Movies are just the beginning. If a digital network can ship movies on demand, why not TV shows and video games? That's the cable industry's plan. Video on demand will become the lace ribbon on a package of digital services, including Internet access and online banking. Says Michael LaJoie, Time Warner Cable's vice-president of corporate development: "It's the beginning of real choice, of watching what you want, when you want."
There's some hype here, sure. But the video rental industry isn't taking it lightly. Today's entrenched players in the $11 billion business, which includes movies, games, and other videos, are expected to lose 15% of their market to cable by 2005. Says Forrester analyst Jeremy Schwartz: "Once they [consumers] try it, they'll never go back." No wonder Viacom Inc.'s Blockbuster video-store chain has teamed up with telephone companies and utility Enron Corp. to provide its own video-on-demand service by the end of the year. Predicts Blockbuster Chief Executive John Antioco: "We'll double the market for video rentals and keep 30% of it."
Meanwhile, market-share wars among video stores, cable operators, and digital satellite broadcasters are about to get bloody, driving down the price of renting movies and games and making more of them available. Blockbuster's Antioco says customers will soon be paying $5-$10 a month for unlimited access to new movies and games. Silicon Valley-based Diva Systems Corp., which provides video-on-demand services for many cable operators, offers a package of 430 movies for an average $3 a rental.
Cable's battle, then, is on two fronts: video rental stores and also the feisty digital satellite broadcasters, which have been in cable's sights for years. Companies like DirecTV Inc. and EchoStar Communications Corp. use satellites to beam 225-plus channels to 14.3 million subscribers nationwide. While that number is small compared with cable's 66.5 million subscribers, digital satellite subscribers are expected to jump nearly 73%, to 25 million, by 2005. That's a huge growth rate, considering that cable households are expected to increase an anemic 2.5%, to 68 million, in the next five years. What's more, many of those signing up for DirecTV and EchoStar are cable's cream-of-the-crop customers: high-income households buying the pay-for-view movies, sporting events, and digital packages that represent cable's most profitable services. But with its VCR-like features, "video on demand should stem the loss of subscribers to digital satellite," says Michael Salerno, an analyst at researchers Adams Media Research in Carmel Valley, Calif.
How does video on demand work? The technology is complex and differs somewhat from system to system, but the general operating principle is that cable operators store movies as computer files on a server. One server can simultaneously deliver a copy of the same movie to up to 20,000 customers. Movies enter TVs through a new type of set-top box that's really a computer. Made by Scientific-Atlanta, Motorola Inc.'s General Instrument unit, and others, these new set-tops let consumers pause, stop, forward, and rewind movies.
The concept isn't entirely new. It began life as something jokingly called "sneakernet," referring to the days when sneakered hotel employees used to race among basement VCRs, popping in tapes as guests ordered movies from their rooms. In the early 1990s, the cable industry embraced new technology that solved such problems but was still unreliable and expensive. Today, a combination of equipment advances and falling component prices has slashed costs by 90%. A video-on-demand set-top box that cost $4,000 in 1993 today sells for $300 or less.
That development has turned video on demand from a money pit to a money-maker. Forrester estimates that a $3.5 million investment, enough money to add video on demand in a system of 200,000 subscribers, will break even in two years. Adds John Hildebrand, director of multimedia technology at Atlanta-based cable operator Cox Communications Inc.: "We'll make money if customers buy only two movies a week." That's about the same rate as video stores but renting movies from cable will be easier: The cable operator will either charge a monthly fee for the service or tack rental charges onto monthly bills.
NEW RIVALS. Consumers may be crazy for video on demand when they hear about it, but it could be a while until everyone can have it. The networks necessary to deliver the service reach only about 50% of all cable households today. The cable guys are expected to lay enough broadband pipe to solve this problem soon enough. But meanwhile, other technologies are cropping up that could challenge the concept. Upstarts TiVo Inc. and ReplayTV Inc. sell a $300 set-top box that lets consumers record, save, and edit any TV show--and jettison the commercials.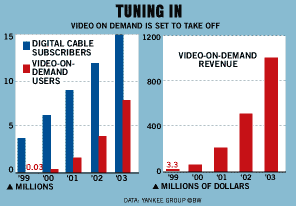 Then there are the movies themselves. As it stands now, Hollywood studios release new movies first to rental stores and then to cable. "For video on demand to be a success, it's going to have to offer the same roster of new movies as the video stores," says Tom Wolzien, a media analyst at Sanford C. Bernstein & Co. It won't be easy persuading the studios to change their release schedules, given that 14% of their revenue now comes from rental stores. Still, even Blockbuster's Antioco believes the studios will eventually embrace video on demand. All they have to do is see Burke and his kids with their feet up, ordering the next flick.
Before it's here, it's on the Bloomberg Terminal.
LEARN MORE