Caribbean High Tech Dreams
Can perks and cyberparks keep this economy thriving?
Christina Hoag
There is a loud hum inside Calmon Dominicana's factory, where computerized looms spit out woven garment labels. On a recent day, the machines were spelling out "Made in Dominican Republic" on tags to be stitched into Old Navy pants. "We can do 47 million labels and tags a week," says General Manager Roberto A. Taveras, whose factory sits in Santiago, 130 km north of Santo Domingo. "And we're not even at capacity." That may soon change. Come Oct. 1, apparel exports from the Dominican Republic will be eligible to enter the U.S. tariff- and quota-free under the recently approved U.S.-Caribbean Trade Partnership Act.
The law, the product of a six-year lobbying effort by 23 Caribbean and Central American countries, is expected to give Latin workshops a boost. But the end of trade restraints may come too late to halt the steady decline of the Dominican Republic's $2.4 billion-a-year textile and garment industry.
Already, there are signs that the country is losing ground to rivals. These include Mexico, where manufacturers have enjoyed preferential access to the U.S. market since 1994, thanks to NAFTA, and Central American nations that boast lower production costs. Even bigger threats come from China and other Asian producers. So the most the Dominican Republic can expect from the new U.S. law is a brief respite from intensifying global competition.
So how will the country survive the local industry's inevitable downturn? Output from its 44 special export zones--of which garments and textiles make up the lion's share--have powered blistering economic growth, averaging 7.8% in the past four years, which is higher than the Latin American average. So to keep that impressive streak going, officials in Santo Domingo are now betting on high tech. Already, a $30 million cyberpark is going up outside the capital.
PLENTIFUL HYPE. It's a valiant effort, but the road ahead runs uphill. For starters, the Dominican Republic lacks the infrastructure to support high-tech ventures: Skilled workers are few; electricity is sporadic. And countries from Costa Rica to Malaysia are competing for the same investment dollars.
Undaunted, the Dominican government has already fired up its hype machine. Eddy M. Martinez, executive director of the state-run Investment Promotion Office, claims that two dozen deals will be sewn up by yearend. Companies based in the cyberpark will enjoy a 100% exemption on corporate income tax and duty-free imports of equipment. Although Martinez would not estimate how much investment the park will garner this year, he was happy to volunteer the names of some prospective tenants: Microsoft, Oracle, and Terra Networks. However, Microsoft is planning to open just a three-person sales-support center. And Terra Networks, the Internet arm of Spain's Telefonica, says it has not yet decided whether it will base a new Caribbean portal there.
To their credit, officials in charge of the cyberpark are taking steps to ensure that when investors do show up, they will have a trained labor force. Later this month, the Technological Institute of the Americas will open its doors. The government has invested $12 million in the school, which will provide everything from 8-week courses to master's degrees in fields such as computer programming and engineering, for up to 2,500 students. Graduates of the institute will no doubt be a hot commodity in a country where the population averages just five years of schooling and illiteracy hovers near 16%.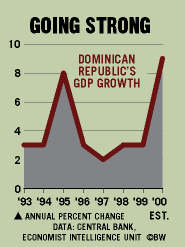 High-tech companies setting up shop in the Dominican Republic have to contend with another problem: faltering electricity. Although most of the power grid is now privatized, blackouts remain common. That forced Nypro, a maker of plastic parts based in Clinton, Mass., to spend $500,000 on a backup power system for a new plant it opened last year.
Martinez, the official in charge of promoting the cyberpark, knows he has his work cut out for him: "Selling the Dominican Republic as a high-tech center is not an easy task." Indeed, the government's high-tech intentions are as likely to short-circuit as to succeed. Meanwhile, the country had better keep the textile mills humming.
Before it's here, it's on the Bloomberg Terminal.
LEARN MORE