Westvaco Watches For A Windfall
by
As consolidation rips through the industry, papermakers are gearing up to cope with a tougher market. One company that is reshaping itself is Westvaco (W), one of the top U.S. makers of paper, packaging boards, and specialty chemicals.
Westvaco is focusing on becoming a global packaging producer and an important player in specialty chemicals," says Lise Shonfield, a paper maven at investment firm ABN Amro. Westvaco has become an enticing asset-value play, she says, because it will have to sell certain properties outside of packaging material and chemicals to attain its restructuring goals. So far, Westvaco has purchased $1.3 billion worth of assets to beef up its packaging and chemicals operations.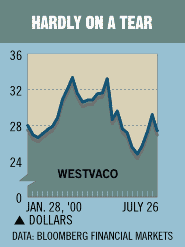 Westvaco stock, at 27, is trading below the intrinsic value of its assets, which she puts at $43 a share. Shonfield expects Westvaco will sell its coated paper and envelope business, as well as some timberland holdings. She estimates the value of the coated paper and envelope operations alone at $1.5 billion, or $9 a share, based on recent deals. Shonfield says likely buyers include UPM-Kymmene, Stora Enso, or Mead, all interested in expanding their coated-paper businesses. The company also plans to unlock the value of its 1.5 million acres of timberland by selling a small part of it. She figures its timberland assets are worth $1.3 billion. Not counting asset sales, Shonfield sees Westvaco earning $2.52 a share in 2000 and $3.54 in 2001, up from 1999's $1.45.
Before it's here, it's on the Bloomberg Terminal.
LEARN MORE