There Go The Neighborhoods
Joan Oleck
I was a baby in the 1950s when my parents moved us out of the Park Slope neighborhood of Brooklyn, N.Y. So I have no memory of the glorious art deco apartment we lived in back then. The one directly facing Prospect Park that my folks rented for $75 a month after my father came home from the war in Europe. The place with the details Mom recalls almost with reverence: the hallway as long as a bowling alley, the built-in bookcases, the breathtaking view of Manhattan. Not to mention the playground where I first toddled--and where, today, I watch my own daughter play.
That's right. After four decades in the Midwest and South, I went back to Park Slope in 1993. Like other baby boomers, I wanted to reclaim the urban spaces our suburban parents had abandoned. I was also drawn by the 1880s architecture of the Park Slope conclave, originally built for professionals escaping the city across the just-completed Brooklyn Bridge. The Slope's leafy streets, its brownstone rowhouses, its coffee shops--I couldn't resist. But now there's something else I can't resist: the onslaught of gentrification.
UNASKED QUESTIONS. It's a phenomenon I've struggled to come to terms with since becoming its victim. In New York, Atlanta, San Francisco, Chicago--almost any urban center with old housing stock--young professionals are scraping, sanding, and spending. And I don't doubt that that's progress of a kind. At the same time, gentrification tears at the fabric of communities. It homogenizes at the expense of the color and character that long-term residents and small shopkeepers impart. It's this underside of gentrification that cities need to address. But by and large they're not. Large questions are going unanswered--unasked, even: What will the ultimate cost be for our cities? What will life be like without the diversity--economic, social, ethnic--that once made neighborhoods vibrant?
There's nothing new about gentrification: Park Slope has been experiencing it for at least 25 years. Indeed, the professionals who arrived in the 1880s to build on farmland were gentrifiers too--as, to an extent, was I. No, what's new is the intensity. It's being fanned by the hot economy, clearly enough, but the boom for some is a bust for others trying to find homes. The question is: Can we urban dwellers stop and look at what we're doing before it's too late to avoid unwanted consequences?
BIDDING WARS. Consider tech-heavy Silicon Valley, south of San Francisco, which has surely minted more millionaires recently than any other area of the country. In and around San Jose, Silicon Valley's capital, ordinary bungalows with two bedrooms now sell for half a million dollars; people apply for costly rentals the way they apply for jobs, often with much less luck. The results are fairly grim. Municipal workers who earn $50,000 live in homeless shelters, janitors cram their kids into garages, and sales clerks sleep on city buses. Roy Bennett, an attorney in Palo Alto, found out the hard way how the property market works when he bid on a tiny stucco ranch house in nearby Redwood City. Bennett offered the asking price; someone else offered more--and closed the sale. Sighs Bennett: "They show houses on Saturday and Sunday, take offers on Monday, and sell 'em on Tuesday."
SQUEEZED OUT. Things aren't quite that bad in Park Slope--though they're headed in that direction. Real estate brokers tell me that two-bedroom co-ops along the park, where my parents lived, now sell for up to $500,000. With rents rising by 20% a year, two-bedroom apartments rent for $2,000. And on Seventh Avenue, the Slope's commercial heart, mom-and-pop shops have been squeezed out by gourmet take-out restaurants, a Starbucks, a Barnes & Noble. The last butcher closed down Memorial Day. The result: The elderly and poor aren't the only ones being displaced. Joining the exodus are an increasing number of middle-class professionals--people like, well, people just like me.
Last year, I was evicted from my one-bedroom apartment in a brownstone divided into three rental units. My rent was $875, but a broker had advised my landlord he could nearly double that without renovating. I had neither the cash to afford the higher price nor a legal leg to stand on, because New York rent regulations cover only structures with six units or more. So I became realty residue. I moved to neighboring, still-gentrifying Prospect Heights, where, with my family's help, I was able to make myself gentrification-proof by buying a place. I got off easy when I compare my fate with the fate of many others. My daughter can still walk to the park where I once played, though she'll never attend Park Slope's famously excellent P.S. 321.
Is anything being done about runaway displacement? Well, yes, there are communities across the country working to keep themselves diverse. By and large, though, neighborhoods seem helpless to stop the process. And you can't be surprised. At bottom, gentrification is made partly of the American dream of home ownership and partly of the American faith in free markets. "We're really pitting ourselves against what seem to be abstract market forces," says Sharon Zukin, a Brooklyn College sociology professor who has studied the phenomenon. Zukin favors a "political solution." That means tax incentives for low- and moderate-priced housing. It also means pressure for rent control.
Not that rent control is a winning ticket these days. Only a few municipalities still have it: 110 towns and cities in New Jersey, 14 in California, 64 in New York State, including New York City, and Washington, D.C. Even in these cities, housing advocates say, landlords are wiggling off the rolls. Look closer, however, and the picture looks less one-sided. The number of Brooklyn apartments covered by rent regulation fell only 2% from 1996 to 1999, to 291,629 units. Brad Lander, director of Park Slope's Fifth Avenue Committee, a housing advocacy group, thinks more municipalities will adopt rent regulations in the future simply because they fear losing their middle-income police, teachers, and service personnel.
That would be a political solution, all right, but it has the force of the market behind it. After all, New York faces what amounts to a housing crisis, with one in four households spending more than half its income on rent. This is a city that has attracted over 300,000 new residents in the past decade--and offered them only 42,000 new rental units. It's a place where the gap between the rich and poor is becoming more evident as more of the middle class moves out.
Lander's group has declared a "displacement free zone" across 12 blocks in the lower-income South Slope. There, they've been "outing" landlords who evict low-income residents in expectation of doubled rents. And they can point to a few successes. But is this a serious solution on a large scale? Hardly, says Harold Simon, executive director of the National Housing Institute in Orange, N.J., which advises communities on housing issues. "Fifth Avenue is doing a terrific job, but it's a rearguard action," Simon says. He favors mutual housing associations, which offer affordable units to low-income buyers who accept limits on the profit they can make if they sell.
MAKING PROGRESS. Around the country, groups similar to Lander's are implementing tactics of their own. In San Francisco, which faces gentrification pressures few other American cities match, John Elberling, executive vice-president of the Tenants & Owners Development Corp., is making progress toward keeping affordable housing stable. Right now, the South of Market neighborhood, where his work is concentrated, has 10,000 low-income residents. "Maybe after 40 years' effort, 1970 to 2010, we'll still have 10,000 low-income residents living in assisted housing"--albeit among a much increased, well-heeled population. Elberling's approach includes large-scale investment in affordable, nonprofit, and inclusionary housing, where developers set aside 10% to 20% for low-income residents and business owners. South of Market already has 800 such units; the policy could become law if San Francisco voters support it in a municipal ballot initiative this fall.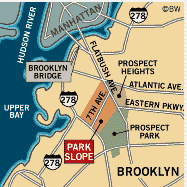 Maybe Park Slope's nouveau riche brownstone owners could contribute to the solution instead of the problem though legislative activism, or donations to the Fifth Avenue Committee. Maybe I'll write a check myself, though I've been forced away from the Slope's idyllic streets. That way, I'll feel less guilty about the fact that I displaced someone when I moved from the Slope to Prospect Heights. For my money, gentrifying Americans will soon enough discover that preserving diversity is just as important as preserving cornices, stoop steps, and soapstone mantelpieces.
Before it's here, it's on the Bloomberg Terminal.
LEARN MORE