Spain: Strong Growth Is Fanning Inflation
by
Although the euro zone's inflation rate jumped to 2.4% in June, nearly a percentage point faster than the 1.5% rate at the end of 1999, the 11-nation economy is not generally in danger of overheating. That cannot be said for some of the smaller countries, however, especially Spain.
There, inflation increased to 3.5% in June, up from 2.9% last year and from 1.4% in 1998. As in the euro zone generally, higher energy prices account for much of the acceleration. But unlike the pickups in Germany, France, and Italy, which account for 74% of the euro zone economy, faster inflation in Spain also reflects rapid economic growth and a sharp drop in unemployment, which makes it easier for the inflationary impacts of the weak euro to filter through. Spain's economy grew 4.1% in the first quarter from a year ago, and many analysts expect growth this year to exceed the government's recent 4% projection.
The story is similar in the Netherlands, Portugal, Finland, and Ireland. Economists at J.P. Morgan & Co. say that core inflation--excluding energy and food--in these four nations and Spain has increased steadily in the past three years, from 1.5% to 2.2%. The pace in the rest of the euro zone, which is up slightly in recent months, remains a tame 1%.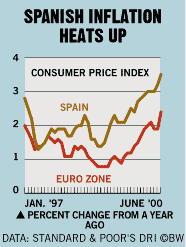 Spain's growth is broad-based. Consumer spending is powered by strong job growth, which has cut joblessness from 20% in early 1998 to 15% in early 2000. Consumer borrowing is robust, and construction especially so. Also, stronger growth in other euro zone economies lifts export demand. Consequently, businesses are optimistic and investing heavily in new equipment.
Credit-tightening efforts by the European Central Bank will have little impact on Spain's roaring demand growth, and any government tightening in fiscal policy is unlikely. The government's anti-inflation efforts have included intensified reform efforts in the labor markets and telecommunications, and a tightening of banks' loan-loss requirements. But these efforts are unlikely to be effective.
Before it's here, it's on the Bloomberg Terminal.
LEARN MORE