business
Fox's Version Of Survivor
Can its new network chief, the third in 18 months, stay afloat?
By
Christopher Titus knows how to read an audience. Still, the 35-year-old comedian, star of the Fox Network's Titus, probably hit a little too close to home for Fox executives when he was asked recently to assess the strengths of new network President Gail Berman. "She's actually helped to build shows, so she knows what we're doing," said Titus to several hundred TV critics gathered to review the upcoming TV season. "Of course, how long she'll be around is anyone's guess."
You can bet Berman--Fox's third network chief in 18 months--didn't laugh. Less than a month after jumping from making TV shows to running the fourth-largest network, the 43-year-old onetime Broadway producer finds herself in the toughest job in show business. Last year, Fox lost a hefty 16% of its audience, including a chunk of the 18-to-49-year-old market that advertisers crave. This was one of the largest single-year declines recently among the major networks. "Do I feel trepidation at taking this job?" she says. "You bet I do."
Berman clearly has some rebuilding to do. Fox, headed last year by former Comedy Central chief Doug Herzog, relied so heavily on lowbrow reality shows like World's Wildest Police Videos that it turned off viewers who came to the network in search of edgy comedies and twentysomething dramas. The network also let shows like Beverly Hills 90210 age without developing replacements. Nor did it ride herd on producers for franchise shows like Ally McBeal and The X-Files--both of which saw large audience drop-offs as scripts bordered increasingly on the bizarre. Even now, things are not completely on track: The initial script for a midseason show by ER and Jurassic Park creator Michael Crichton is weeks behind schedule, and if it takes much longer Berman says she may have to yank it.
A lot of this is old hat for Berman, a New York native who went from producing plays in the late 1970s at Ford's Theater in Washington, to becoming one of Hollywood's hottest TV producers. A founder of Regency Television, a 50% joint venture with Fox, Berman is credited with creating the WB Television Network hits Buffy the Vampire Slayer and Roswell, as well as the highest-rated show on Fox's current lineup, the quirky comedy Malcolm in the Middle. "She's seen chaos before," says Malcolm star Jane Kaczmarek.
Berman is surrounded by a high-profile lineup of producers working for her, including Sex and the City creator Darren Star. And Fox has cracked the whip at X-Files and Ally McBeal, asking producers to get their shows back in their old grooves. But working with big-name and often big-ego creative types can also bring multimillion-dollar headaches. Titanic director James Cameron, who spent an estimated $5 million to make the pilot for the futuristic sci-fi show Dark Angel, says it will "definitely be a learning curve" to adhere to TV shows' time and budget constraints.
LESS REALITY. Still, with midseason hit comedies like Malcolm and Titus to build on, Fox does have some things working in its favor. This year, Fox can use time slots during the Major League Baseball playoffs and the World Series to promote its programming--a big plus particularly for some of its newest entries, including Ally creator David E. Kelley's drama about teachers, Boston Public, and Star's slick Wall Street drama called The Street. And Berman won't have to shoulder the burden of reality-based shows such as World's Meanest Ladies and Plastic Surgery Nightmares that the network had ready to air but has decided to pull. "Reality has a place on our schedule, but only if it is done right," says Sandy Grushow, chairman of the Fox Entertainment Group, which oversees the network.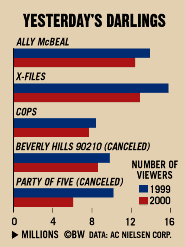 Can Fox get back its ability to lure 18-to-49-year-olds? Advertisers bought $1.3 billion worth of ads for the coming season, a modest increase over last year and the smallest hike among the Big Four networks. After spending what he describes as "a ton" on Fox for clients like Radio Shack Corp. and candymaker Mentos, Andy Donchin, senior vice-president of ad buyer Carat North America, says he's "cautiously optimistic." "If they do it right, they have a great niche," he says. But as Berman and her two predecessors can well attest, turning that "if" into a "when" is not that easy.
Before it's here, it's on the Bloomberg Terminal.
LEARN MORE