E Funds: An Ipo Worth A Second Look?
by
An example of a 2000 IPO that has headed nowhere but down is eFunds, which went public on June 26 at 13. It is now at 9 1/2. No, eFunds isn't a no-revenue, no-earnings dot-com. A provider of payment-transaction processing and risk-management services, eFunds is expected to earn 23 cents a share in 2000 and 80 cents in 2001, up from 10 cents last year. And revenues are expected to total $411 million this year and $510 million next, up from 1999's $306.6 million. Among its customers: Citibank, Bank of America, Wells Fargo, Wal-Mart Stores, J.C. Penney, and Kmart. So why did the eFunds IPO bomb?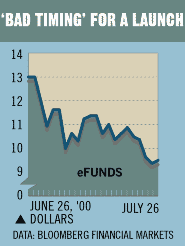 "It was largely bad timing: Investors were wary of new issues then," says Joel Krasner of First Albany. "The company participates in the fastest-growing sector of the electronic payment industry," says Krasner, who rates the stock a "strong buy," with a 12-month target of 18.
Krasner says eFunds should become a leading facilitator of Web-based transactions. It is one of the big third-party processors of debit transactions at automated teller machines and point-of-sale terminals. He adds that eFunds will benefit particularly from the emerging use of electronic checks, direct-deposit and direct-payment transactions, and debit cards over the Web.
Before it's here, it's on the Bloomberg Terminal.
LEARN MORE