Commentary: Who Does Linda Wachner Answer To?
by
Even in the catty world of Seventh Avenue fashion houses, Linda Joy Wachner's mouth and aggressive manner are the stuff of legend. The antics of the Warnaco Group Inc. chairman, president, and CEO, have long provided grist for gossip mills.
But until mid-1998, Wall Street had nothing but admiration for her work. From $550 million in sales in 1986, Wachner built Warnaco into a $2.1 billion giant by 1999. With marquee brands such as Calvin Klein and Chaps by Ralph Lauren, Warnaco was a winner.
But in the past two years, the clothesmaker has been in the dumpster. Following its latest earnings warning on July 20, shares fell 27%; altogether, they have slid from a high of 44 in mid-1998 to below 5. Fuming investors place much of the blame on Wachner--who has continued to pull down sky-high pay and options despite the slide--but she's not the only party responsible. Warnaco's board of directors also seems to be in need of serious reform.
Certainly, there's little doubt that problems are piling up. Warnaco faces a potentially devastating trademark violation lawsuit from Klein, the company's biggest source of income. Warnaco disputes the charges and has filed a countersuit. It has also accrued $1.4 billion in debt from an acquisition binge. Warnaco has of late faced other bad news, too, from the bankruptcies of key customers like Filene's Basement to increased competition that prompted a price war on many products. That has led to slowing sales growth for some of its key brands. Making matters worse, Wachner keeps surprising the market with new restructuring charges and earnings that have fallen short of Wall Street expectations in at least four of the last five quarters. "It's a show-me stock now," says Harvey O. Robinson, senior equity analyst at Chapman Co. in Baltimore.
WARNING SIGNS. But if investors are increasingly unhappy about the stock price, Warnaco's nine directors, from outward appearances, aren't worried. Although each director declined to comment or return calls, the board issued a statement through Warnaco General Counsel Stanley P. Silverstein echoing their "full support for Mrs. Wachner and the Warnaco senior management team and their strategy."
That should come as no surprise. Investors and governance experts say Warnaco sports a very weak board whose members have potential conflicts of interests. Along with Wachner, CFO William S. Finkelstein is a director--meaning insiders make up 25% of the board. That's a warning sign, say governance experts.
Moreover, according to Warnaco's proxy, several directors or the firms they work for profit directly from their relations with Warnaco--an even bigger no-no to governance folks. Director Andrew G. Galef, chairman and CEO of MagneTek Inc., has long provided financial services to Warnaco, which earned him $560,000 last year. Retail consultant Walter F. Loeb has also received consulting income while a director. And a recently retired director was partner in a law firm that worked for Warnaco. Warns governance expert and University of Delaware professor Charles M. Elson: "Anytime there's a connection between a board and CEO, other than equity interest, you have a problem."
CAPTIVES. Also troubling to shareholders and critics is the fact that Wachner, Finkelstein, and another director were on the board of both Authentic Fitness and Warnaco before Warnaco bought it last year. Not only did Wachner lead Authentic Fitness when it was independent, but the company also did significant business with Warnaco. For Patrick S. McGurn, vice-president of Institutional Shareholder Services, it's just another tie that potentially makes the board "captive to the CEO." Meanwhile, half of the directors have practically no equity stake in Warnaco, having exercised only a handful of their share options.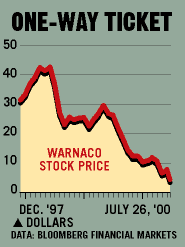 Moreover, last year the board's compensation committee gave Wachner $7.2 million in pay or stock, along with 3.3 million additional stock options, in part due to a salary agreement. All told, Wachner has received stock options over the last 9 years that could give her ownership of a phenomenal 21% of outstanding Warnaco shares. "They're giving the company away," says one investor. "What has she done to deserve this much?" And Suzanne Zak of Minneapolis fund-management firm Zak Capital Inc., who has reduced her holdings to 100,000 shares from several hundred thousand, doubts whether "they'll take the initiative on anything"--such as replacing top management. For Warnaco to truly thrive, change must start with the board.
Before it's here, it's on the Bloomberg Terminal.
LEARN MORE