Commentary: How Lucent Lost Its Luster
Steve Rosenbush
There he was again. On July 20--for the third time in six months--Lucent Technologies' CEO Richard A. McGinn was holding a conference call with investors to explain why the telecom-equipment giant would fail to meet Wall Street's quarterly earnings expectations. Although he had promised earlier that growth would pick up during the second half of fiscal 2000, investors would have to wait until next year for the upturn. Shares fell 16% that day. Now down 35% for the year, they show no signs of rebounding.
Why? On Wall Street, Lucent's credibility has gone up in smoke because of a grim cycle of lowering targets and then failing to meet them. And despite McGinn's current promises, there are reasons to believe his latest growth projections won't be forthcoming next year either. While McGinn pledged to deliver major managerial and structural changes within 10 days, that's not likely to be enough. "A reality check needs to go on at Lucent," warns analyst Michael Ching of Merrill Lynch & Co. "They need to be more realistic."
In order to restore its credibility, Lucent must quickly address the operational and technological problems that are behind the slow growth. The company has failed to spot important shifts in crucial markets such as optical networking. Research and product development have failed in several important respects. Worse, this purveyor of high-tech gear has been slow to embrace the Web for its own internal use. All of which have had a direct effect on performance.
Lucent took a step in the right direction this spring when it lured highly respected chief financial officer Deborah Hopkins away from Boeing Co. She started by acknowledging the problem. "The company's credibility was strained. That is obvious," admits Hopkins. She was also partly responsible for the July warning, which she says gives Wall Street a more realistic earnings outlook.
There are other issues, though, that Lucent hasn't really begun to effectively address. For instance, it's years behind competitors when it comes to using the Web to link itself to suppliers and customers. Rival networking giant Cisco sells 80% of its networking equipment over the Web and produced $650,000 of revenue per employee last year. Lucent sells just 30% over the Web and brought in just $250,000 per employee last year.
Lucent's biggest obstacle, though, may be that the company is trapped by its legacy in the voice business. By focusing on traditional customers from that segment, Lucent has been out of touch with important new areas of the market. That has meant missing major growth opportunities. Several years ago, Lucent faced a crucial decision in deciding which sort of optical networking gear to build. Its big telephone company customers wanted gear that increased capacity by cramming more channels onto an optical fiber. While it gave in to their demands, archrival Nortel Networks Corp. followed the path set by upstarts such as Qwest and Williams Communications. They focused on gear that used few channels, but increased the speed at which information flowed through the glass fibers.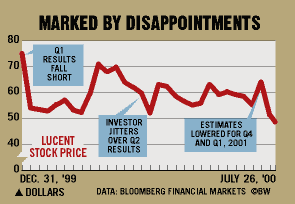 COSTLY MISTAKE. Because of that decision, Lucent was caught off guard last year when its traditional customers suddenly shifted their purchases to the faster technology. As Nortel pulled ahead in the optical market, Lucent was forced to lower its earnings estimates. "It was a mistake," concedes Hopkins. "We listened to the service providers that at that point drove the bulk of our business."
That mistake can't be quickly corrected. Lucent is still building the manufacturing capacity it needs to push more high-speed optical equipment out the door. But if McGinn wants a shot at delivering on his latest promises to Wall Street, he'd better work fast. Otherwise, the second half of 2000 could be the start of an even more painful decline.
Before it's here, it's on the Bloomberg Terminal.
LEARN MORE