Can Fox Power Up The Power Industry?
The President-elect wants more competition in electricity
Elisabeth Malkin
Privatization is a dirty word in Mexico. Many Mexicans believe that selling off state-owned companies leads to higher prices, worker layoffs, and juicy profits for the new owners--not improved service, as government officials typically promise. So when Energy Secretary Luis Tellez last year proposed a thorough overhaul of Mexico's state-run electricity industry, complete with auctions of power plants and distribution rights, union and popular opposition quickly killed the idea.
Now it is being revived. Mexico's power industry is reaching a breaking point quicker than anyone expected. Rapid economic growth has driven up energy demand so fast that it will soon outstrip supply (chart). Faced with a looming power crisis, President-elect Vicente Fox's new team is racing to draft its own reform proposal for the new Congress to consider as soon as it convenes on Sept. 1. But this time, says Fox economic adviser Eduardo Sojo, there's no plan to sell state assets. Instead, he says, the idea is to create a competitive energy market that will draw private investment into new power plants.
LOWEST BID. There's no question that private capital is needed--lots of it. Tellez estimates that to keep up with soaring demand, Mexico must add 22,250 megawatts to its existing 35,600 Mw of generating capacity by 2008 and invest heavily in transmission, at a total cost of $50 billion. To entice investors, Fox will have to figure out how to introduce competition into what is now a tightly regulated market. Most likely, that will mean a move to a system where generators, both private and public, bid against each other to sell electricity into the grid at the lowest price. With competition, "margins would be more interesting and tariffs would be lower," says Jorge Young, general director of InterGen Mexico, a joint venture between Bechtel Enterprises and Shell Generating Ltd.
But first, Fox must get Congress to sign off on a reform plan. It will be tough, since major changes to Mexico's electricity law will require a constitutional amendment. Fox's National Action Party (PAN) doesn't have the requisite two-thirds of congressional votes to get an amendment through. So some sort of deal will have to be cut with the Institutional Revolutionary Party (PRI), which, despite its historic defeat in the July 2 presidential election, remains a major force in Congress.
Under Mexico's constitution, electricity is largely off-limits to private companies. Two state-owned entities, the Federal Electricity Commission (CFE) and the smaller Central Light & Power (LFC), control 93% of generation and all transmission and distribution. Tellez' proposal envisioned splitting up their assets into regional generation and distribution companies and selling them off, while keeping one transmission company in charge of the national power grid. Industry sources say that Fox will probably borrow elements of that plan without rushing to privatize. Distribution may be the last area to be liberalized, to allay union fears of mass layoffs.
SOARING DEMAND. Mexico cannot afford any delays. New capacity is already on its way, thanks to a scheme introduced in 1992 that allows companies to build and operate power plants, so long as they sell all of their production to the CFE. Yet the 11,000 Mw that are due to come on stream by 2004 as a result of that program will still not be enough to satisfy demand. IterGen, Mitsubishi, along with Spain's Union Fenosa and Iberdrola, are among the foreign investors already constructing new plants.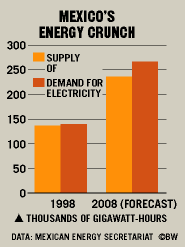 Meanwhile, industries faced with a looming power shortage are taking matters into their own hands. In June, a group of Monterrey companies led by Grupo IMSA, a steel and auto-parts conglomerate, and glassmaker Vitro contracted Enron Corp. to build a 245 Mw facility to supply their own operations, a strategy allowed under current law. "It's a chance to get a more competitive cost and assure future supply," says Alfonso Gonzalez, strategic-planning manager at one of IMSA's steel divisions.
Others are following suit. In July, Ispat Mexicana, a division of the Rotterdam-based steelmaker, and Kimberly-Clark de Mexico announced plans to bid out a 930-Mw plant in what would be the largest self-supply project to date. But experts say do-it-yourself approaches are no substitute for real reform. "Those are just palliatives," says Jorge A. Chavez, a PRI congressman and former under secretary of energy. Maybe so, but unless the new Congress moves fast, Mexican industry may face debilitating brownouts before long.
Before it's here, it's on the Bloomberg Terminal.
LEARN MORE