Building A Better Bourse
Shareholder-friendly rules may persuade Brazilians to invest
Jonathan Wheatley
Business should be booming on the Sao Paulo stock exchange. Brazil's economy is recovering nicely from last year's devaluation-induced malaise. And inflation and interest rates continue to fall. That's the sort of virtuous cycle that should have Brazilian companies beating a path to the stock market so they can raise money to expand.
It isn't happening. Trading volume at the Sao Paulo stock exchange, known as Bovespa, amounted to $24 billion in the second quarter of 2000--about half what it was at its peak in 1997 (chart). One reason for the decline is that big Brazilian companies are bypassing local bourses and heading straight for New York, where they can sell their shares in the form of American depositary receipts (ADRs). The rest are sticking with bond issues, either abroad or at home.
TOO LITTLE? What's going on? Equity markets at home are just too shallow. Liquidity, already tight and concentrated in a few stocks, is getting tighter, thanks to a string of share buybacks and takeovers. The Rio de Janeiro exchange, Brazil's oldest, has given up equities trading entirely. Bovespa officials are mulling a merger with exchanges in Buenos Aires and Santiago.
Antonio Kandir, a Brazilian congressman and former planning minister, is on a mission to give Brazilian bourses a boost. The key, he says, is reforming the country's outdated securities law: "Companies need the ability to invest. Once and for all, we need to modernize our capital markets."
That means giving Brazilians a reason to buy stocks. So Kandir has sponsored legislation to grant new protections for minority shareholders. He wants a U.S.-style shareholder culture, where everyone from speculators to pensioners invests in equities.
Widespread ownership of stocks is something Brazil has never had. "The big difference between Brazil and the U.S. isn't brokerage costs, or taxes. It's the total lack of a retail investment market," says Orlando Viscardi, head of ADR programs at Citibank in Sao Paulo. "My mother owns no shares. If she lived in the U.S., she'd have a good little portfolio."
One big reason many Brazilians shun equities is the unfair treatment of minority shareholders. Companies are allowed to issue two so-called preferential, nonvoting shares for every ordinary voting share. So an investor can control a company with just a few shares: The controlling shareholders of conglomerate Inepar own 56.5% of voting stock but only 21.3% of total capital. What's more, if a company changes hands, the acquirer has no obligation to buy out minority shareholders at the same price as the controlling investors.
Kandir's law would change all that. Yet critics say it falls short in some areas. Companies that are already traded can keep the 2-to-1 ratio of nonvoting to voting shares. And newly traded companies can still issue up to 50% of stock in the form of preferentials, as opposed to 66% now. Kandir, however, argues that new protections for minority shareholders will make it less attractive to issue nonvoting shares. Kandir's bill has already passed the crucial committee stage but still faces a vote in the Senate and House. But it could take up to a year for it to become law.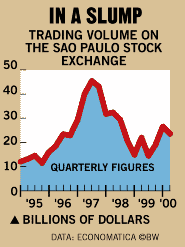 Meanwhile other factors will hold Brazil's stock markets back. The Central Bank has knocked 250 basis points off the benchmark interest rate so far this year, but at 16.5%, the rate is still high. That means low-risk, fixed-income investments can yield tempting returns. High-risk stocks on the Bovespa would be hard-pressed to match that. Rates will have to fall much further before investors migrate to equities.
The government is looking for ways to encourage the switch. In July, it began to unload some of its shares in Petrobras, the public-sector oil giant. And in a break with past practice, small investors have first dibs. Shares of Furnas, a big utility due to be privatized, will be sold off in lots rather than as one controlling stake, as had been customary.
A revamped securities law, lower interest rates, and wider share ownership would be a powerful combination. But for Brazilian companies thirsting for fresh capital, the wait is still long.
Before it's here, it's on the Bloomberg Terminal.
LEARN MORE