As Prague Gets A Theme Park Look...Fast Food And Neon Don't Help
James Drake
At the top of Prague's Wenceslas Square, beneath the equestrian statue of the king immortalized by the Christmas carol, a local city guide is prepping a group of American tourists. "Ladies and gentlemen, we are about to start our tour. As we make our way through the town center, please be wary of pickpockets..." And off they go, past the Estates Theater, where Mozart premiered Don Giovanni, through Old Town Square with its zodiac clock, across the pedestrianized medieval Charles Bridge, and on up the hill to the Castle District. Their route is lined by gaily painted housefronts, lending the city a chocolate-box feel that has enticed some 3 million visitors a year since the fall of the Berlin Wall opened the tourist floodgates. "You are lucky to be here," the guide pronounces. "This is the most perfectly preserved city in Europe."
He's right--in a way. The Czech capital runs the architectural gamut from Romanesque, Gothic, Renaissance, and Baroque to Art Nouveau. What's more, because the Czechs surrendered to the Nazis before the going got hot in 1939, Prague escaped wartime bombing. During 40 years of communist rule, a lack of both funds and entrepreneurial ethos left things as they were. All that changed after 1989. Today's visitors may think they're seeing the real thing, but preservation specialists worry that overzealous building owners and ham-fisted city officials are taking the soul out of Prague by "restoring" it to a glossy perfection it never had.
Traditionally, they argue, Prague was uniform in color, including the red roof tiles. The city was never intended to sport the Legoland look it has now acquired. Many of the garish paints, in fact, are harmful to the buildings: Even when muted, historically accurate pastel hues are used, builders invariably recommend cheaper, nonporous, high-gloss acrylic paints that trap moisture and eventually can cause walls to crumble. "What you're seeing is a facade of a facade," says architect Daniel Spicka, a member of Prague restoration watchdog group Cora. "Inside, many of these buildings are rotting away, and using these materials will only accelerate that process."
KEEN TO HELP. Two years ago, thanks to Cora's urgings, the World Monuments Fund, a nonprofit based in New York City, added the center of Prague to its List of 100 Most Endangered Sites. American Express Co., which pledges $100 million a year to the fund, was keen to help by bankrolling the cataloguing of endangered buildings and a free restoration advice service. Now, the local AmEx branch has changed management, and the incumbent won't recommend financing. With all those tourists, he insists, Prague should come up with the cash. Efforts to find sponsorship from other Western multinationals have run into a similar response. "The feeling is, the city looks fabulous now," mourns Vaclav Novotny, director of the Prague Information Service. "So why change anything?"
Still, Novotny and Spicka say they can't blame their countrymen entirely. After decades of being denied the chance to make money, they have simply allowed the market to take over. But in 20 or 30 years, they warn, when Prague's film-set facades start to decay, the cost--and the urgency--of real renovation will be far greater.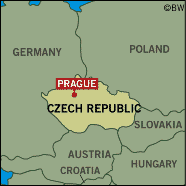 These days, Prague enjoys UNESCO-protected status as an architectural marvel, and it's an official "European City of Culture" for 2000. Yet latter-day monstrosities are springing up that have no place within a conservation area. It's not, says Cora, that Praguers should object to anything new or "weird." The capital boasts a fantastic collection of rare Cubist architecture, and the recently opened Frank Gehry office building is widely hailed as a fine example of post-modernism. But such gems are losing their luster because of carbuncles popping up around them.
The usual suspects abound: McDonald's, Dunkin' Donuts, and DKNY all have flagship stores on Wenceslas Square. And throughout the Old Town, currency exchanges with glass fronts and rate boards have been gouged into the facades of centuries-old buildings, which are also being marred by billboards, neon lighting, and vast, fast-food emporia. "Taken as a whole, it's nothing to be proud of," says Spicka. "I'm surprised poor Wenceslas hasn't fallen off his horse in disgust."