Motorola (MOT), the world's No. 2 mobile- phone maker, hasn't been top of the list this year among institutional investors. Better-than-expected second-quarter results jolted the stock from 33 to 39, but it has eased to 36--way below the 61 it hit in March. Motorola is at a 50% discount to European peers Nokia and Ericsson, based on 2001 estimates. An earnings shortfall in the first quarter and a write-off of more than $2 billion related to its stake in the Iridium satellite system soured investor interest in Motorola. Time to jettison Motorola for good?
Definitely not, argue some, who think it's on the road to recovery. Operating margins in its personal communications segment weakened in the first quarter but rose to 4% in the second quarter, mainly because of cell phones. They see Motorola upping output of handsets with new designs and features.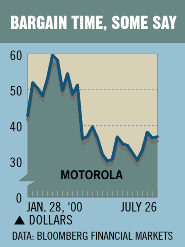 "A lot of investors haven't been up to speed on Motorola," says Robert Lyon of Institutional Capital, which manages $13 billion. "They are ignoring the valuable assets that Motorola owns"--including a major stake in Next Level Communications, worth $6 billion; 10% of Nextel Communications, worth $5 billion; and 7% of Broadcom, $2 billion. All told, they're worth $7 a share in Motorola stock. Subtracting their value, Motorola really sells at 29. Motorola also owns cable company General Instrument.
Lyon says Motorola may unload these assets, as it is doing with Propel, a company it formed to package Motorola's holdings in companies that provide wireless services overseas. Motorola will sell 20% of Propel's stock in a $500 million initial public offering. Lyon thinks the IPO will highlight the value of Motorola's other assets. Not counting those assets, Lyon sees Motorola earning $1.07 a share in 2000 and $1.60 in 2001.
Before it's here, it's on the Bloomberg Terminal.
LEARN MORE