U.S.: The Great Jobs Machine Starts To Downshift
Wages are rising smartly, but productivity is keeping labor costs in check
by
Soft-landing mavens at the Federal Reserve and elsewhere likely latched on to the June employment report as enthusiastically as a vacationer grabbing an icy drink after a hot day at the beach. Weak job growth last month gave further evidence that the economy slowed--perhaps considerably--in the second quarter from its 5.5% annual rate gain in the first quarter.
Equally important, the job report suggests economic growth ended the quarter as softly as it began the spring. That's significant to the outlook because one key question facing the Fed is whether the soft landing will continue into the second half. Given the overly strong pace of demand in the prior three quarters, the soft landing cannot be a one-quarter wonder.
The labor report offered some cool data to satisfy policymakers thirsty for signs that the economy is slowing enough to curb price pressures. First, although swings in the employment of census workers have skewed overall payrolls, hiring at private businesses is easing up (chart). And total hours worked in the nonfarm sector last quarter grew at the slowest rate in more than four years.
There were some pips in the lemonade, however. The jobless rate slipped back again in June, suggesting that job growth, while easing, is still draining the pool of available workers. In addition, pay gains last quarter grew at their fastest pace in two years.
All this suggests the Fed cannot relax just yet. In particular, the Fed must decide how much of the recent easing in job growth is the result of businesses unable to find qualified workers. If slower job growth is the result of a shortage of workers--and not a downturn in the demand for labor--then wages will continue to accelerate in the second half. And consumers toting bigger paychecks could rev up their spending again after a very short spring break in which real consumer spending likely grew at a 3% annual rate.
THE JUNE EMPLOYMENT REPORT was a surprise on many counts. The puny top-line gain of 11,000 nonfarm jobs was well short of the consensus forecast calling for an increase of 250,000. The Labor Dept., however, said that 190,000 temporary census jobs were lost last month. Back in 1990, the last year of a nationwide census, those government jobs didn't fall away until July.
Private payrolls alone rose by 206,000 in June, after a revised loss of 165,000 in May. For the quarter, private businesses created just 110,000 jobs per month, less than half the pace in the first quarter. Payrolls increased 2.1% in the 12 months ended in June, slower than the 2.4% pace of a year earlier.
Not all the job news was weak. Manufacturers managed to expand their payrolls in June, adding 8,000 workers. They also lengthened the workweek by 12 minutes, suggesting that industrial production posted another solid gain in June. Factory output continues to accelerate despite signs of fading domestic demand, mostly because orders are coming in from overseas.
Service providers added 193,000 jobs in June, but the pace in service hiring is tapering off. One reason: A cooler housing market is leading to job cuts at real estate offices and mortgage lenders. Because of those layoffs, payrolls in the so-called FIRE sector--finance, insurance, and real estate--have dropped in five of the first six months of this year.
Although job growth was weak, businesses are still hiring in greater numbers than people are joining the labor force. Consequently, the labor markets remain extremely tight. The June jobless rate slipped back to 4% from 4.1% in May. And the pool of available workers dropped to a record low of 9.8 million. The percentage of the working-age population in the labor force stood at 67.2% in June, not far off the record high of 67.6% set in February.
BECAUSE LABOR DEMAND seems to be outstripping the supply of workers, it's not surprising that wage gains are increasing. Pay among production workers in June rose a nickel, to $13.71 an hour. For the quarter, wages grew at an annual rate of 4%, up from a 3.8% pace in the first quarter and 3.1% in the fourth (chart).
On the surface, higher wages would seem to be an inflation worry at the Fed. But they aren't troubling as long as workers produce enough goods or services to cover the increases in their paychecks. That certainly seemed to be the case in the second quarter. Although output slowed, total hours worked likely slowed by a greater rate. That means productivity grew in the second quarter, perhaps as much as 2.6%, at an annual rate, causing unit labor costs to rise by less than 2%. When compared with their year-ago levels, unit costs probably didn't increase at all last quarter.
LOOKING AHEAD, a bigger wage-related concern for the Fed is whether consumers will use their fatter paychecks to return to the high-flying spending that has powered the U.S. economy for the past few years. Policymakers know that when demand is excessively hot, companies find it easier to raise the prices for their products, and inflation breaks out.
Two recent factors may help along a consumer-led soft landing. First, higher gas prices continue to siphon away money that could be spent on other goods and services. Second, the horizontal movement in the stock markets may curtail the "wealth effect" that has enabled many households to spend beyond their incomes.
Households are still quite willing to take on debt, however, and that's another way consumer spending can keep outpacing income gains. Installment credit jumped $11.8 billion in May, bringing the total of new debt taken on so far this year to $56.3 billion.
Revolving debt alone, which includes credit cards, is soaring (chart). Over the past year, revolving credit has risen 9.4%, compared with a yearly pace of 5.7% in May, 1999. Overall credit has also sped up, rising 7.9% in the past 12 months, up from a 7.1% pace.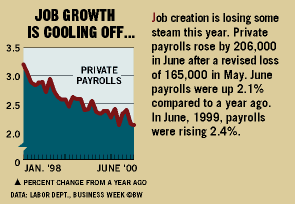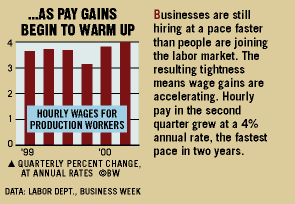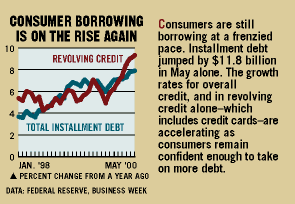 Consumers will not cut back on using their credit cards or taking on other debt until they begin to feel more nervous about their financial futures. So far, though, the surveys on consumer optimism show households are pretty upbeat. In particular, consumers still feel confident that job opportunities are plentiful. Of course, two weak employment reports in a row could begin to change that perspective.
If their optimism fades, consumers may keep their spending growing at a Fed-friendly pace of 3% or so. Keep in mind that a cowed consumer sector is key to making the soft landing sustainable. Slower domestic spending will cool off business demand for labor. Job creation below the growth of the labor force will loosen up the labor markets, slow wage gains, and keep price pressures from infiltrating the U.S. economy. Only when this cycle becomes evident will policymakers be able to kick back and enjoy a tall cool drink--and maybe a hot day at the beach.
Before it's here, it's on the Bloomberg Terminal.
LEARN MORE